Congratulations – you've been bitten by the disc golf bug! If you're reading this blog there's a good chance that you've just encountered the sport of disc golf. Maybe it was a friend or co-worker who took you out to the local course, or perhaps a spouse who bugged you for years to play.
Whatever the case may be, you're now part of an incredible community who loves all things discgolf, who supports one another, and who aims to #growthesport in every way possible. As a new player, you're probably wondering which discs will serve you the best. It can be confusing since each manufacturer makes their own lineup of molds and plastic types.
When in doubt, it's best to start simple with a 3 disc set that includes a fairway driver, a midrange, and a putter. These three discs will serve you well at nearly every type course you play, so let's explore the characteristics of these beginner discs and why they'll work for you.
Mold, Weight, And Plastic Type
If those words sound foreign, that's ok. When we talk about the disc mold, it's referring to the style of the disc. Each disc manufacturer creates their own branding within their mold selection, but the basics all come down to four different styles: distance drivers, fairway drivers, midranges, and putters.
Distance drivers are generally recommended for more advanced players, making fairway drivers your go-to selection for long range shots. Midranges work well for in-between distances when you're trying to get closer to the basket, and putters are best used to connect your disc with the chains of the basket.
Disc golf discs come in a variety of weights, and the heavier the disc is, the harder it is to get it to do what you want while you're still learning the game. For the most part, beginner discs should be toward the lighter end of the weight spectrum and can be changed out with heavier discs as you get better.
Along with various types of molds come different styles of plastic as well. Again, each
manufacturer has their own branding associated with their plastic options, but in general, it's best for beginners to throw what's usually called baseline plastic. The name of it will vary, but it tends to be a decently durable material that's inexpensive and easy to throw.
3 Disc Sets
Over time you'll probably find you have an allegiance to one disc manufacturer over the others, although not everyone will have a strong preference. When you're looking to purchase your very first disc golf discs, try buying a prepackaged 3 disc set – thankfully they aren't hard to find!
Dynamic Discs offers their version of a beginner selection with their Easy To Throw Disc Golf Starter Set retailing at $24.99. Discraft offers a similar option in their Beginner Disc Golf Set retailing for the same price. Players who love Innova's products will be pleased to find their DX 3-Disc Set, complete with a driver, midrange, and putter in their baseline plastic for around $27.99.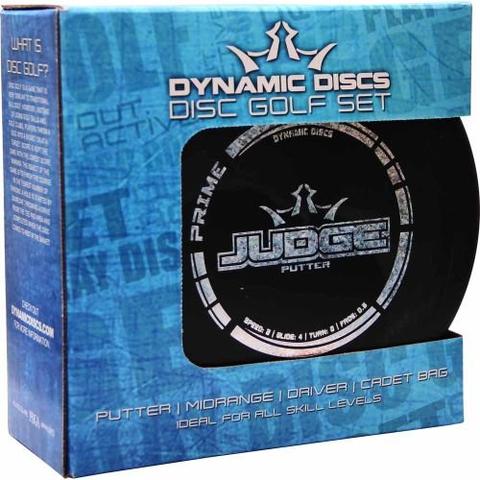 Nearly every manufacturer produces a starter set, or if they don't have one already bundled together, they make it easy to determine which molds are best for new players. As you grow in your skill set, form, and confidence on the course, you'll probably find that these discs don't serve you well anymore and it's time to upgrade. That gives you the chance to pass them along to another new player, giving them the gift of the game that you have grown to love.
Which discs have you found success with as a new player? We'd love to hear more in the comments below!
Newsletter