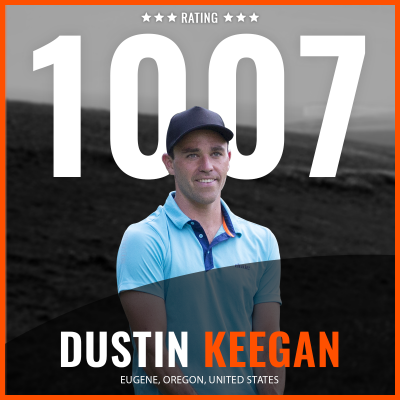 Dustin Keegan has made a name for himself in the disc golf world with his consistent play, positive attitude, and is an asset in many ways to the Dynamic Discs team. While he's made a huge impact in the local Oregon scene through running putting leagues and club events, he's also toured the country and helped to teach disc golf along the way. Don't let his game face fool you – although Dustin is focused on the course, Keegan is one of the nicest and most approachable disc golfers out there!
Year Born: 1986
PDGA rating: 1009
Based In: Eugene, OR
Career Highlights: Consistently ranks as one of the top 5 pro men in Oregon
Career Wins: 7 tournaments wins across 11 years in the PDGA
Favorite Disc: Zero Hard Burst Dagger/Opto Pure
In The Bag:
Zero Hard Burst Dagger
Opto Pure
Opto-G Sarek
Lucid Justice
Medium Hard Harp
Hybrid Verdict
Lucid eMac Truth
Retro Line Anchor
Lucid Felon
VIP Ahti
VIP Fortress
Proto Lucid Maverick
Proto Opto Explorer
Gold Line Saint Pro
Lucid Renegade
Fuzion Enforcer
Lucid Enforcer
BioFuzion Defender
Goals:
Personal disc golf goals: Be top 3 in all C & B-tiers this season. Win an A-Tier or higher. Make $10,000 in tournament winnings. Become 1020 rated by end of the season. Place in the Top 10 in NT Series Points.
Life goals:
Help our nonprofit UPlayDG with the process of reaching our goals and dreams. Help teach 10,000+ kids this year. Invest into "Van Life" (transform a big van into a home on wheels). Get into the best physical shape of my life.
Advice:
Stay patient and trust the process. Most new players want instant results when they start "getting good" and playing events but that really isn't a realistic outcome. It takes experience to win at a consistent level and the only way to gain experience is by putting in the work and paying your dues. As long as you always believe in your skills and the work you're putting into your game, you will succeed in the long run. The other important thing to remember is to always have FUN when you have a disc in your hand. You chose this life, so you need to keep it really enjoyable for it to last forever!
Want to know more about Dustin Keegan? Check out these links to his other outlets!
DYNAMIC DISCS player profile: Click Here!