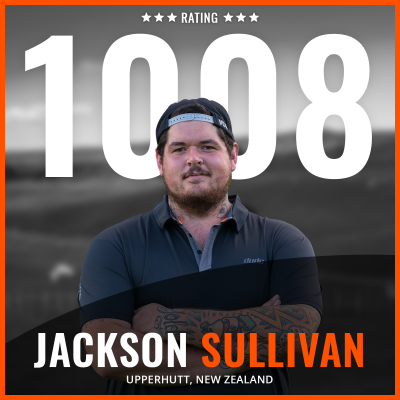 Jackson Sullivan always seems to have the time of his life on the disc golf course no matter what his scores look like, but don't let that fool you, he'll shred on the course and secure a tournament win without thinking twice. Sullivan's happy-go-lucky attitude makes him a pleasure to play with, and he loves the sport so much that it's present in both his professional and personal life.
Year Born: 1988
PDGA rating: 1012 (as of 13-Mar-2018)
Based In: Auckland, New Zealand
Career Highlights: 3 first place wins in 2017, including the Australian Disc Golf Championships
Career Wins: 5 tournament wins across 5 years in the PDGA
Favorite Disc: RPM Tui – Atomic plastic
In The Bag:
Innova McPro Aviar
Ruru – Cosmic Plastic
Tui – Atomic Plastic
Kea – Atomic Plastic
Kea – Magma Plastic
Innova Champion Roc3x
Piwakawaka – Atomic Plastic
Innova Avery Jenkins 2013 tour series Star Teebird
Latitude 64 Gold Line Saint Pro
Innova Champion Firebird
Kahu – Atomic Plastic
Kahu OS – Atomic Plastic
Kahu XG – Atomic Plastic
Discmania C-Line PD2
Goals:
To grow the sport whenever possible and to push myself to become a better player.
Advice:
Get in the field and practice as much as you can. It will teach you more about your discs than any hole will. And also remember to carry the confident, relaxed feeling from the fun rounds you have with mates into your tournament game – it will help save strokes on the course.