Winter disc golf can pose a challenge in the Midwest, but at Blue Ribbon Pines, they proudly advertise that their tee pads are cleared all season long. Combine this aspect with the fact that it's one of the most beautiful courses in the nation, and the challenging 27 hole layout becomes a dream to play even in the coldest of temperatures. Before long pros will be competing during The Majestic, a prominent tournament that draws locals and touring players alike. Let's take a peek at what the course has in store this year!
Way Back When…
Opened in August of 2006, Blue Ribbon Pines was truly a labor of love. Designed by Minnesota pros Timmy Gill and Steve Beckman, the course was proposed to landowner Ray Jordan without him even knowing much about disc golf at all! As Timmy and Steve drew up the plans, Ray put in more man-hours than he can count, and he fell in love with the sport during the process. Still owned by Ray and his family today, Blue Ribbon Pines brings players from across the world to play on its unique 27 hole layout. Along with a variety of other events that take place during the summer months like festivals and concerts, the property sees use nearly all year long.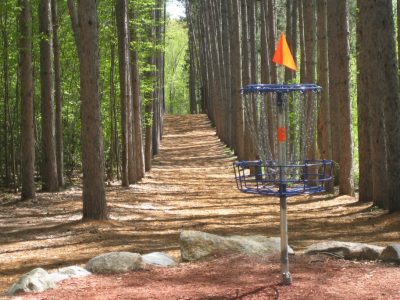 More Than Just Trees
Close your eyes and recall the first image you can when you think of Blue Ribbon Pines. It's full of trees, right? Known as a challenging course that demands precision along many technical and wooded holes, the property also has its fair share of open areas too. Ponds sprinkled across the course offer a fair amount of risk/reward to be had, and if you don't bring your A game, you may be in for a long round.  With that being said, most players could theoretically head out with just a putter or a midrange and mash it out. The average hole length in either the short or long layout comes in just under 350 feet, so your ability to be calculated will far outweigh your skill in distance throwing. Concrete tee pads and Mach V baskets work to complete the well-maintained feel, and you'll almost always feel like the course was freshened up just for you. Never wanting to leave a trash can full or ignore a fallen branch that needs to be removed for safety, Ray Jordan spends massive amounts of time keeping the course in pristine condition.