You can't talk about disc golf without mentioning one of the most respected and well-known courses in the United States and perhaps the world: DeLaveaga Disc Golf Course in Santa Cruz, California. Known as a challenging layout for even the most experienced player, it boasts immense beauty, rich history, and is home to the Masters Cup each and every year.
Lovingly called DeLa, it's a place that should be on every disc golfer's bucket list. If you've never been before, here is a quick overview to encourage you to get out there and play a round!
Way Back When
Before being known as a must-play course, the property at DeLa was used by the California National Guard. It was common to see tanks rolling in and out regularly, and the highest point known as hole 27's "Top of the World" was used as a lookout point to the sea.
After military activity ended, the park was largely used as a dumping ground for large appliances, thus dubbing one of the course's holes as "The Kitchen", and people would camp and squat on the property for lengthy periods of time.
All of this changed in 1984, when Tom Schot was given permission to install an 18 hole course as part of the year's World Disc Championships. Over the years the course has evolved to a 29 hole layout, and is known to regularly play in different configurations due to multiple pin positions.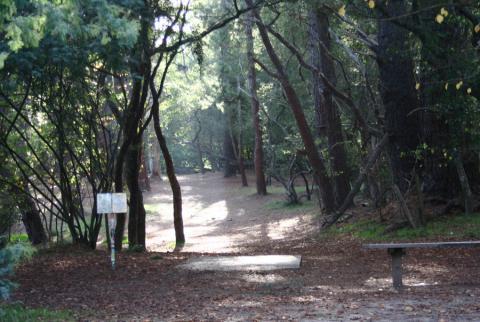 Image from PDGA
What It's Like Now
Playing at DeLa can only be described as stunning, with a huge range in elevation and a mixture of open fairways and densely wooded areas. A hot day might prove to be exhausting as you trek over 9100 feet of land, but die-hard players don't mind as long as they get to experience the course's beauty and challenging nature.
Given that it has multiple holes with steep elevations, errant shots or poorly thrown layups have been known to roll down hills and leave you in a much worse position than you were originally. This instance is talked about often as you'll hear someone say "I got DeLa'd."

Image from PDGA
The course itself is well taken care of with concrete tee pads and MachX baskets, allowing visitors to experience championship level play any time of the year. However, once warmer weather comes around, expect to see the best in the world congregate here for one of the National Tour stops.
Maintaining such a large piece of land, let alone 29 tee pads, fairways, and baskets, is a labor of love, and the DeLaveaga Disc Golf Club is to thank for keeping this course so pristine. Formed in 1986, they have spent thousands of man hours cleaning and improving each hole so that it remains nothing but a joy to play there. However, one word to the wise if you're visiting this California area: poison oak calls DeLa home and despite every effort to eradicate it, there's still a chance to run into it while playing.
If you've never been to DeLaveaga before, do yourself a favor and plan a trip now. After playing the course you'll be glad you did!