When was the last time that you went out to play a round of disc golf and felt like you looked really good? Not just good for your friends or the course, but good enough to go out for a bite afterward without having to worry about changing your clothes? If it's been a while, then we have just the thing for you. As the weather begins to heat up, it's a good time to take a look at your summer disc golf wardrobe, and including the Dude Men's Tech Caddie Shorts can help you to look great both on and off the course with ease.
What Makes Them Special?
Unlike other generic athletic wear, the team at Dude goes the extra mile to develop clothing that's both attractive and functional during your disc golf game. Whether you're playing a casual round with some of your best mates or you're headed out to the biggest tournament of the year, the Men's Tech Caddie Shorts will offer you comfort and style from your tee off on hole one to your final putt of the day.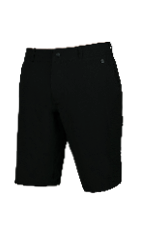 One of the most appealing aspects of these shorts is that even during hot days, you'll stay cool. We use a recycled Evol-Dry breathable 4-way stretch fabric that works to wick sweat away from your body and allows for maximum airflow no matter how you're moving. Aside from featuring a material that stretches with you, these shorts have been tailored in such a way that they look luxurious without being overly fancy.
Not only do the Dude Men's Tech Caddie Shorts help you to look your best, but they can actually make your time on the course a little bit easier. A pocket on each side perfectly holds your mini and a scorecard holder and pencil pocket makes keeping track of your birdies an easy task. We've also included a Dude stud that lets you attach your DUDE tech towel right to your shorts! Offered in a basic black that goes well with any shirt, there are a wide range of sizes to meet the needs of all dudes.
Great For All Occasions
Perhaps the best feature of these shorts is their versatility, as you can wear them just about anywhere without having to worry if you look like you just came from the gym. Depending on your work environment, you could wear them on the job with a belt and collared shirt, or slip them on for a weekend adventure with friends. These shorts are so comfortable and stylish that taking them off to wash them might be one of the more difficult parts of your summer, so purchasing a few pairs would be wise.
Don't let your disc golf game go down the drain this summer because you're too hot or uncomfortable – let the Dude Men's Tech Caddie Shorts help to lower your score and make your life a little bit easier. They go great with our Men's Pro Polo, so make sure to bundle and save on your order today!