With some of disc golf's top men staying in Europe and skipping the most recent DGPT stop, you'd think that the Idlewild Open would have a rather predictable finish. Although we saw Paul McBeth come out victorious once again in this 2018 season, how he got there was anything but ordinary.
In fact, the concept of even completing the tournament was threatened by extreme weather circumstances on Friday that gave competitors an ominous feeling the following two days. Let's recap this year's Idlewild Open and the excitement that came with it.
The Weather Gods Have Spoken
Who can forget last year's series of events that ended up being cut short due to the weather? For a moment on Friday it was looking like Idlewild was about to have the same fate, as multiple rain and lightning delays halted the men's play several times. While the women were able to finish their morning round relatively unscathed, a tornado watch ultimately concluded the MPO play despite pushing tee times back several hours to wait for the weather to clear.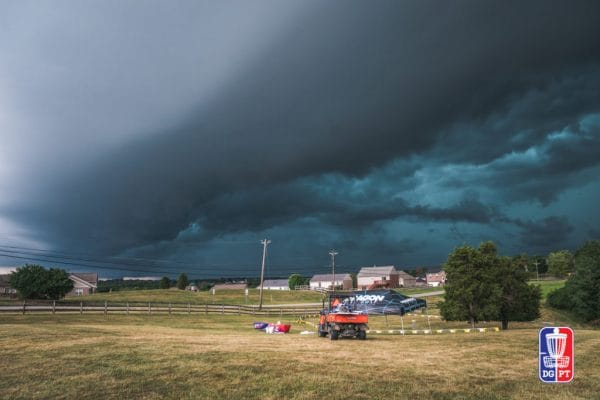 Image Source
A grueling course on its own, Idlewild clocks in right around 9100 feet and tests players with beautiful yet tricky greens and a ton of trees. As round one was cut short, the men found themselves waking up early on Saturday to complete the previous day's play, and then were pushed right into round two on the same card as Friday's lineup.
Despite this chaos, Kevin Jones, Paul McBeth, Nate Perkins, Zach Melton, and 2017 winner James Conrad all had great scores after round one, and following round two's play it appeared as if this DGPT stop would result in a win for Jones.
Paul On A Sunday
Going into round three, Jones had a six stroke lead over McBeth who was forced onto the chase card after missing his putt on hole 18 the previous day. It seemed as if Jones had enough of a buffer over lead card mates Conrad, Melton, and Michael Johansen but after a rather uneventful start by the leader, Paul seized his window of opportunity.
While Paul's talent is second to none and everyone expects him to pull off some amazing wins, it's still incredibly impressive to note that he not only made up six strokes to tie it up with Kevin but then he proceeded to beat him by an additional four. 
Is Paul back?
Many are saying yes.
Results on the men's side were interesting, as Conrad and Melton shared second place and Nate Perkins moved up eight spots on Sunday to land in fourth overall.

Image Source
Two Women Push Ahead
For the most part, the FPO division was gifted with fairly decent weather throughout the weekend, although that still didn't take the edge off of this difficult course. Showing their veteran skills all three days, Paige Pierce and Sarah Hokom quickly determined that this tournament was a two-person race, as they pulled ahead by a considerable amount of strokes over the rest of the field.
While the two were neck and neck for most of the event, Pierce turned on the gas during Sunday's play and bested Hokom by five strokes during that round, putting her into first place with a +8 overall. Sarah came in second at +15, with local Rebecca Cox placing third at +28.
Image Source
Players now have a bit of a break as they gear up for one of the most exciting events of the season, The Ledgestone Insurance Open. A huge field of over 900 players will hit the course August 9th through 12th, and we're placing our bets to see who comes out on top. Let us know in the comments below who you're rooting for during this awesome event.