When you think of disc golf on the East Coast, it's impossible to not conjure up images of fall foliage and crisp air. While that's certainly the case during some parts of the year at Maple Hill, the fun to be had extends into other seasons as well. In fact, the Maple Hill Disc Golf Course is open nearly all year long, and while it's host to the MVP Open toward the end of summer, there's still a ton of golf available before and after that.
Maple Hill – The Basics
Established in 2002, Maple Hill is located in Leicester, Massachusetts and is nestled on one of the most gorgeous pieces of property you've ever laid eyes on. The course includes a ton of elevation and integrates natural land features to provide added challenges for players, including several ponds, wooded areas, and even a Christmas tree farm!
Maple Hill is open during most of the year, from New Year's Day to Thanksgiving Day, giving the property owners time to manage the hustle and bustle of the holiday season. On any given day you'll find players spending their time on the course or hanging out in the game room, dubbed "the most amazing 1500 square feet on earth."
The Course
Ok, by now you're probably ready to know what the course at Maple Hill is actually like, right? Aside from seeing players perform during the MVP Open each year, it can be tricky to discern what the layouts actually entail. Here's a quick rundown:
The red tees are designed for most skill levels, with holes averaging between 250 and 300 feet. Owners recommend it as a good starter course and you'll have the best chance of capturing birdies here.
White tees at Maple Hill offer more of a challenge, with a total distance of just over 6,100 feet. Be sure to bring your A-game and come prepared to execute all of the shots in your bag – you're going to need them.
Ready for a real challenge? Try the blue tees, which require a ton of technical precision through the New England woods. Closely mirroring the 2008 Vibram course, this par 62 layout is best left for the pros.
Speaking of pros, that brings us to the gold tees, which are the ones used during the MVP Open each year. Measuring just over 8,200 feet, players are presented with a range of challenges that often include lost discs and high scores.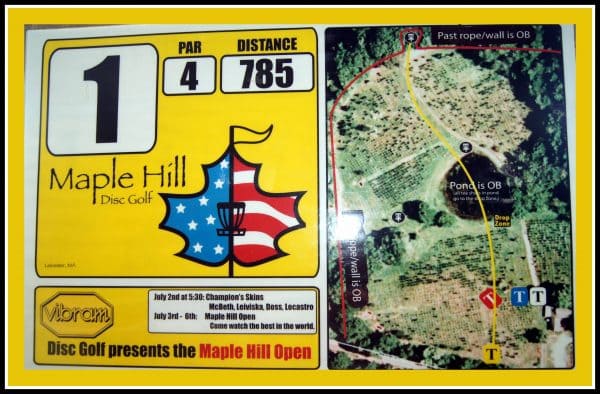 Image Source
Overall, you'd be hard-pressed to find any other course, or set of courses for that matter, that offer as much variety as Maple Hill does. Couple that with amazing New England scenery and you have a location that should top almost everyone's bucket list.
If you're fortunate to compete in the MVP Open, enjoy your time here, as it truly feels like a getaway that you'll never want to leave. At the very least, make sure to watch footage of this year's event to get a grasp on how epic Maple Hill truly is.