Finding winter gear that not only keeps you warm and dry but actually helps you with your disc golf game is a tough thing to come by. All too often, we went up with puffy coats that limit our ability to move or supposed waterproof options that end up not doing as good of a job as we need them to.
Thankfully, we have innovative clothing designs here at DUDE that take into consideration every element of your winter game, and we've come up with a jacket that fits the bill perfectly. Our Tech Caddy Jacket is available for both men and women and hosts a ton of features that every player needs on the course. Let's check it out!
Function Meets Fashion
As important as it is to have a full range of movement and stay dry and warm on the course, it's equally crucial that you look awesome while doing it. The Tech Caddy Jacket features a stretchy polyester twill material that looks both sleek and stylish while being 100% waterproof.
We initially released the jacket in black with the signature DUDE orange accents, but are happy to offer two other limited edition colours: red with black and navy with aqua. Our women's Tech Caddy Jacket combines basic black with hints of pink for a feminine and clean look.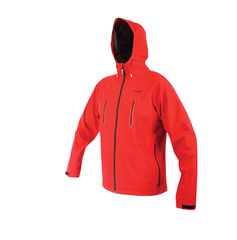 Benefits Galore
The Tech Caddy Jacket brings more to the table than just a good looking waterproof garment. A large hood with an elasticized pull tie makes sure your head is protected, while velcro tab cuffs secure around your wrists to make sure rain and snow stays out. The front of the jacket features a small zip chest pocket for your phone, mini, scorecard, or anything else that has to stay dry during a winter round.
If you absolutely can't wait another minute to get your hands on this coat, we haven't even gotten to the best part yet. Here's where DUDE is truly changing the game of disc golf with products that allow you to improve your skills while on the course.
Any winter player knows how crucial it is to carry plenty of towels with them to keep discs dry, but what happens if there's a backup on a hole or you're just plain sick of drying off your favorite putter five times in a row? The Tech Caddy Jacket features large side zip pockets that not only keep your hands dry, but they actually accommodate up to six discs!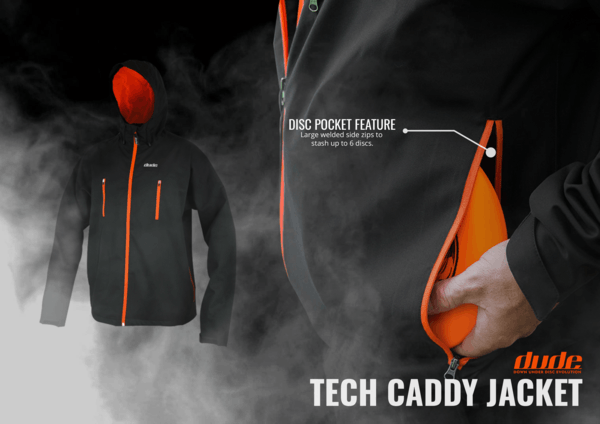 Fans of this product will tell you that the ability to put their discs inside of their jacket is literally a game changer, allowing them to keep their tools dry while waiting to take their turn. Whether it's snowy out or you're in the middle of a downpour, the Tech Caddy Jacket allows you to stay focused on your game and forget about the weather.
Be sure to order your Tech Caddy Jacket today – they're available in a ton of sizes and will arrive just in time for the rest of your winter rounds to be a whole lot easier!