With nearly 800 players in attendance and 3 days packed full of competition, Kentucky was the hot place to be last weekend. Considered a highlight of the season, the Amateur Championships at Bowling Green drew an immense amount of players and was another incredible event to put down in the history books. The Bowling Green Disc Golf Club, established in 1975, runs this tournament to test the skill of amateur players across the nation.
The competition starts on Friday, and as if that wasn't enough excitement to get your blood pumping, they host a massive flymart that evening. Here we saw top faces from the professional division, as touring pros came out to show their support and sell some plastic while they were at it.
Other events included several flexes starts earlier in the week and a Sockibomb Challenge on Wednesday. Tina Stanaitis and Eric Oakley hosted a Bag of Tricks clinic, and Saturday night found competitors at a massive players party. When it was all said and done, the most exciting element for many was found on the course. Let's check out the action to see who was victorious in 2018!
Courses Galore
Part of what makes Bowling Green so special has to do with the sheer variety of courses that are in use during the tournament weekend. Ten layouts in the area are utilized to accommodate the 745 players that arrived this year, with challenging holes and a plethora of OB to test just how skillful of a player you are.
However, Friday's round saw several in the advanced division pull out ahead of the pack, with a 1052-rated performance by Mike Johnson. All in all, there were some impressive scores across the 14 different divisions, with some players making a massive charge right off the bat. Day two saw a slight dip in performance, as scores were still hot but not quite as smoking as Friday's.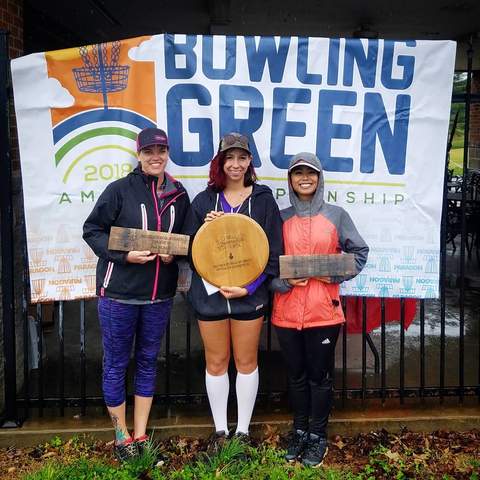 Keeping Up The Pace
While Saturday saw two rounds of action, players were given a bit of rest and reprieve on Sunday, the third and final day. Hitting the course bright and early at 8:30 am, the performance that morning determined who would be advancing to the final 9 later that afternoon. The advanced division saw some close competition and some impressive scores, considering that 162 men were all vying for one of 8 final spots.
In the end, no one wanted to let anyone get the best of them, and that showed in the final rankings. Jacob Sanders from Des Moines, Iowa ended up pulling ahead at the very end and won the event with a 7 stroke lead over second place – or should we say second places. A four-way tie for second and a two-way tie for 6th demonstrates just how much of a battle there was over the weekend.
Other divisions saw similar rankings at the end, but a notable mention has to go to Billy Ray Osborn, who competed in the am masters 50+ division. He took home first place with a 21 stroke lead over second place!
All in all, the Amateur Championships at Bowling Green was a huge success and once again is one of the premier events that players look forward to each year. Keep your eyes out for some of the winner's names to grace the top of the leaderboards during the rest of the 2018 season!