Disc golf is a booming sport all over the world, and one of the many places it's growing by leaps and bounds is in our own backyard in Australia. In late November, we're excited to follow the Choices Flooring 2018 Australian Disc Golf Championships Presented By Nature 2 Nourish, where some of the country's top players will be competing for ultimate bragging rights.
Image Source
Not only is this an incredible event down under, but it's being held on a course that was just recently installed. Weston Park, located in Central Canberra, is a monster of a layout with 27 holes that span well over 13,000 feet (4000 metres for the Aussies). We got the chance to chat with course designer Todd Nowack to get a feel for what this tournament will be like.
It Started As A Dream
We all have that piece of land that we drive by regularly and fantasize about how great it would be to install a disc golf course there. For Todd Nowack, he finally got to make that dream a reality.
"I've had my eye on Weston Park for the past 5 years as it is a 5 minute drive from my house and is a beautiful place located right in Central Canberra, on the shores of Lake Burley Griffin, and has iconic Canberra views of Black Mountain and the Telstra tower, Parliament house, and the National Arboretum."
A place full of magic and beauty, Weston Park was Todd's ideal course destination.
Together with his local disc golf club, Todd put his cartography background to good use and started to analyze how the massive amount of land could be utilized. He's designed and tested a variety of layouts and finally settled on a 27-hole monster that takes advantage of the park's natural beauty. When reviewing his design process, Todd explained,
"I guess the intent was to have a championship level course but at the same time, that's what the park allowed. For example, a short 9 basket course in the park would use maybe 15% of the space, so why not go big! While the course is challenging and there are many holes where big distance is an advantage, there are certainly holes that are designed on the easier side as well to give some birdie opportunities for the large group of amateur players that we have here in Australia."
What To Expect?
The Choices Flooring 2018 Australian Disc Golf Championships Presented By Nature 2 Nourish is a big deal in our neck of the woods, and Todd and his team held an event earlier this year that was like a dry run for the tournament later this month. At the time, Weston Park featured 27 holes with temporary baskets, and after finalizing the entire scope, he and the club worked to put permanent baskets in place.
The result?
"Weston Park is really a beautiful place that has manicured natural fairways between mature plantings of trees. The terrain is not steep but certainly undulating with some uphill and downhill shots, open field crushes, tunnel shots, tight low ceiling areas, and rough lakeside vegetation. The course is fair but can be punishing if you get off your line," Todd described.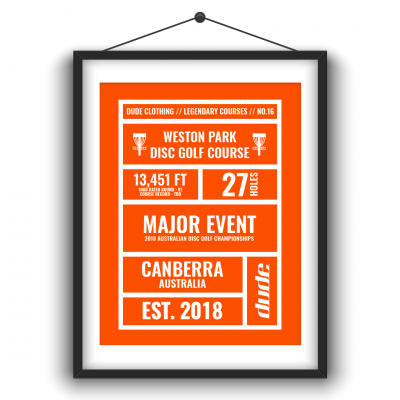 Aside from the beautiful landscape and challenging layout, Weston Park is also one of the main places to see kangaroos in Canberra! Todd notes that Weston Park was a key project within the goal of developing disc golf in the area,
"This is our third permanent course in Canberra with John Knight being a beginner friendly easy course and Eddison Park being more on the moderate side. If you are new to disc golf and just starting out, you probably won't enjoy it very much. But for those who have put some time in and for seasoned players, this will now be a must play course in Australia."
As an event sponsor, the DUDE team wishes everyone registered for The Choices Flooring 2018 Australian Disc Golf Championships Presented By Nature 2 Nourish the best of luck!
Be sure to check back for our post-event article later in the month!