DGPT Championship
With the exception of an odd event here or there, the 2018 professional disc golf season is basically over. That went by quickly, didn't it? The finale of this incredible year was the Disc Golf Pro Tour Championships in Jacksonville, Florida. In all, 44 players made the trip to this beautiful part of the country to compete for bragging rights and, of course, some cold hard cash.

The DGPT Championships utilizes a bracket system, and while some players were already guaranteed a spot to play in the finals, others had to spend several days on the course fighting for a chance to win. Just like at any other event, there was a little bit of drama, a lot of action, and a whole lot of coverage for fans to consume.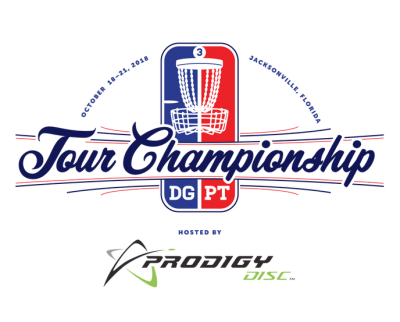 A Challenge For All

Held at the New World DGC, the stage was set with sunny weather and a course that's demanding for even the most experienced players. A nice mix of par 3's, 4's, and 5's, the terrain ranges from wooded areas that require precision to other spots that allow players to unleash their full power. Established in 2015, the New World DGC wasn't the only challenging aspect of this weekend's event.

Our sport's top professionals all brought their A-games to the Championships, and as each round was completed, some hopes were crushed while others saw their own opening to move up the ranks. A look at the scores for each day highlights the fact that some players were able to battle through all four rounds and still come out on top while others only had one or two days of play to contend with.

So, Who Won?
Competition in the men's open field was fierce as usual, and round one showed us that big arms had a distinct advantage. Chris Dickerson, Joel Freeman, and Anthony Barela all came out on top after Thursday, yet only Dickerson kept his cool the next day to maintain his spot in the lead. Both the semifinals and finals are where things got really interesting, as Ricky Wysocki, 2018 DGPT Points Champion Paul McBeth, Eagle McMahon, and others all stepped onto the course to give it one final hurrah for the year.

We don't want to get into too much drama here, but let's just say that the final round got very interesting toward the end. An out of bounds call for Nate Sexton could have potentially changed the fate of the event's results, and if you're really interested to see what went down, be sure to check out all of the action at the Disc Golf Pro Tour YouTube channel. Ultimately, Chris Dickerson took home the win over Sexton by one stroke and received a massive $7,500 check.



Photo Source: Udisc
Let's Hear It For The Ladies

While there were only 12 women competing for the Championship title, there was more energy and talent present than you often see at bigger events. Round one found current World Champion Paige Bjerkaas at the top of the leaderboards but only by a slim margin. While she was able to make it onto the final card on Sunday, too many bogeys and a 10 on hole 8A gave others room to advance.

In the end, it was DGPT Tour Points Champion Sarah Hokom who claimed first place just one stroke ahead of Catrina Allen. While we're used to seeing Paige Pierce dominate at nearly every big event, she ended up missing the final cut by one stroke. Hokom's victory marked her 10th win of this season.

Photo Source: PDGA
As far as the disc golf season is concerned, 2018 is a wrap! How was your year? What are you planning on doing differently in 2019? Let us know your thoughts in the comments below!