This year marked the 20th annual United States Disc Golf Championship and the amount of action that took place over a short four days was immense. From big names coming back onto the scene to illnesses, aces, and double digit scores, there was no shortage of excitement that was captured in an entirely new way by a powerhouse of a media team. Let's jump right in and recap this highly anticipated event!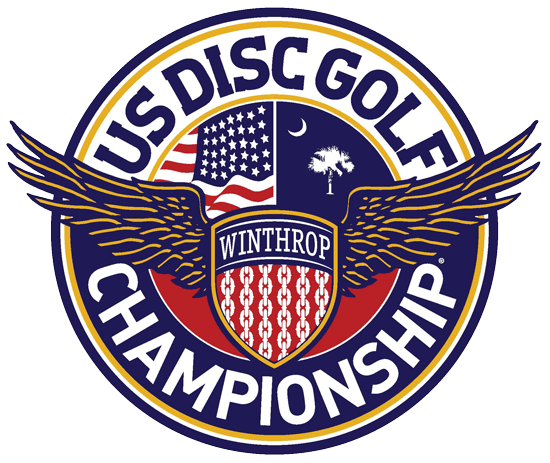 Hot Or Not
While the weather was certainly warmer than many may have expected, the heat of battle was only present for a select few during Wednesday's competition. For the days leading up to the start of the USDGC, disc golf fans were atwitter with the news that The Champ himself was coming back to the scene to compete. Ken Climo managed to take a par on hole one, then ended up withdrawing from the competition due to a longtime injury.
Disappointing to say the least, as everyone wanted to watch this legendary player battle with the best new talent out there, others made up for it with their own stellar performances. Paul McBeth was the only player to shoot a bogey-free round on day one, carding a 13 down and placing himself in the top spot. Both Josh Anthon and Zach Melton came in close with 11 down each, and fan favorite James Conrad scored a -10 after a mostly clean round that ended with his sole bogey on hole 18.
Changing Places
Both Thursday and Friday had some interesting events occur, simply because the tides started to turn for some. While McBeth continued his efforts to again shoot the hot round of the day, including an eagle on hole 10, others were able to nearly match his pace and move higher up the ranks. Jeremy Koling shot 10 down for the day with 2017 USDGC winner Nate Sexton putting down a solid -9.
Now here's where things got interesting, as more and more people learned by Friday that McBeth had been battling an illness for most of the week. Dropping down to a surprising -4 for the day, McBeth opened the door wide open for other talents to enter in. Making a name for himself on this very stage last year, young gun Kevin Jones throttled himself up the leaderboard with an 11 down that put him in contention for the lead. Both Eagle McMahon and 2018 World Champion Gregg Barsby moved up handfuls of spots and positioned themselves onto the chase card going into Saturday's competition.
A Nailbiter Of A Round
Thanks to the combined efforts of Jomez, Innova, UDisc, and a new name to the scene Fulcrum Media, spectators around the world were able to watch impeccable coverage of the final round as well as see carefully crafted replay clips and watch the beast that is hole 17. With several players well within striking distance of McBeth, the tension was palpable.
A double bogey on hole 5 coupled with three more bogeys overall brought McBeth that much closer to giving up his chance at a second USDGC title, and while Nate Sexton put up some awesome scores all four days, it was Kevin Jones and James Conrad who were pushing McBeth to his limit. Both big-armed players kept things very close, but despite several missteps, McBeth was able to secure the win with a three-stroke margin over Conrad, who placed second. Kevin's third-place finish earned him his biggest PDGA paycheck to date, and Sexton and Wysocki rounded out the top five in fourth and fifth respectively.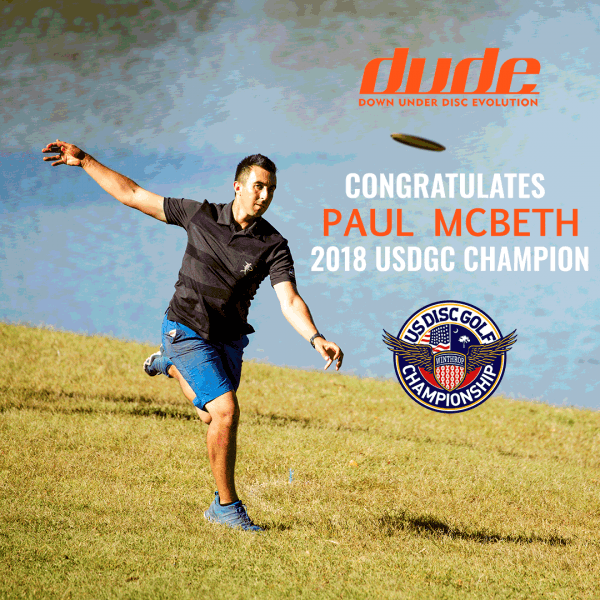 Now that the USDGC is over, you can't deny that disc golf season has almost come to an end. The Ed Headrick Disc Golf Hall of Fame Classic in Appling, Georgia is the next stop for most, with the DGPT Championships acting as the final hurrah for many. Congratulations to Paul for an exciting performance and another title – we can't wait to see what 2019 brings!
Header Image Photo Credit: Eino Ansio