Many of the sport's top women look forward to the United States Women's Disc Golf Championship as a way to measure their progress throughout the year and see if they can grab their own piece of victory. This year's event marked the 20th annual iteration, and while the tournament location has varied over the last two decades, Holt, Michigan was the place to be in 2018.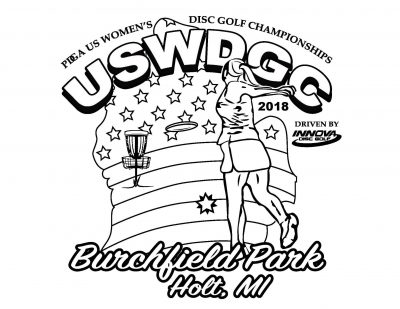 A whopping 159 women played four rounds of 21 holes each and battled their way through thick wooded areas at some of the area's most lush and lovely courses. Some holes gave players the opportunity to air out their shots while others called for tight and technical lines, and it goes without saying that Renegades Trail and River's Edge separated the best from the rest.
The Battle Of The Paiges
Coming fresh off of her Worlds win, Paige Bjerkaas certainly wanted to make another monumental move by taking home her first USWDGC title. Yet with two wins already under her belt, Paige Pierce had another idea in mind. While round one saw a notable difference in performance with a six point spread, Bjerkaas turned on the heat during round two.
Ultimately a handful of bogeys during each of the three days forced Bjerkaas farther and farther off of the lead, giving Pierce the much-needed wiggle room to excel. However, the current World champion still ended up in a prime finishing position, placing 9th out of 40 in the Open division. Pierce went on to land her third USWDGC title by a margin of only two strokes.
Image Source
Hot Rounds
Several women had some really amazing rounds over the course of the event, and we have to give some shoutouts to several of these fantastic players. Round two saw Vanessa Van Dyken shoot an unofficially rated 1016 round as she kept her play super clean and only carded two bogeys across 21 holes. Round three was something special for Madison Walker, who sunk birdie after birdie to lead her to an unofficially 1012-rated performance.
While we're on the subject of excellence, you don't even have to look very hard to see how much skill and finesse Elaine King brings to this event each year. Competing in the Pro Masters Women 40+ division, she had the hot round each and every round, landing herself in the first place position a full 20 strokes over second place.
A huge congratulations also go out to our very own DUDE Ambassador Zoe Andyke, who tied for 5th place and shot well above her rating each day. For some of these incredible ladies, their next stop is the USDGC, where they will be supporting their male counterparts. Others will take some time to rest before they head down to the DGPT Championships in Jacksonville, Florida.
As the 2018 season is slowly coming to a close, we are so thrilled to see how each player on tour has grown and developed their skill set. We're looking forward to seeing what 2019 has in store!
Header Image Photo Credit: Matt Gregoire