While we all know that the Midwest is home to some awesome disc golf courses, it seems that this section of the country gets forgotten when talking about places to visit and play. The West Coast is known for a range of incredible courses and other areas around the nation hold their own one or two great layouts, but the Midwest is one of the few areas where you can find a ton of amazing spots to play.
Today we're checking out some of the awesome places in the Midwest, including The Toboggan in Michigan, Blue Ribbon Pines in Minnesota, and Rollin Ridge in Wisconsin. After reading this article you just might have to book a plane ticket for a little Midwest getaway!
Photo: PDGA
The Toboggan
Plan your visit to Michigan carefully because if you want to play The Toboggan, you'll have to visit during the one time per year it's open. The home of the US Amateur Disc Golf Championships, it has been the home of this prestigious event since 2002. The Toboggan got its start as a temp course for Worlds in the year 2000, and it was loved by so many that it gained a permanent place in Michigan history.
Bring a fully stocked bag when you play The Toboggan, as it clocks in at over 9000 feet and will test every skill you have. Tight fairways and elevation changes give even the most experienced players a run for their money!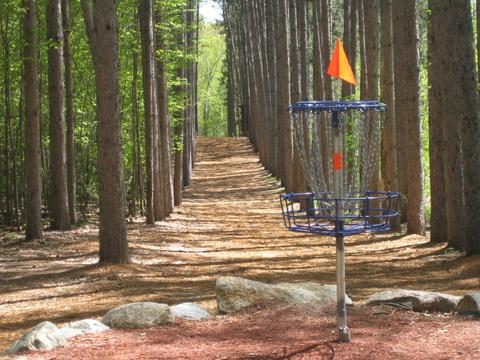 Photo: Ultiworld
Blue Ribbon Pines
Perhaps one of the most picturesque courses known to mankind, Blue Ribbon Pines is a tradition amongst Midwestern disc golfers. Installed on a piece of family property in East Bethel, Minnesota, the Jordans spend countless man hours maintaining and improving the current layout. Tightly wooded fairways are the name of the game here, rewarding those who prioritize accuracy over distance.
Want to stump your friends and family with a fun disc golf fact? Blue Ribbon Pines is the place where DUDE Ambassador Alex Geisinger proposed to his then-girlfriend, making the course a special place in the hearts of many.
Photo: Natural Red
Rollin Ridge
A gem hidden away in Reedsville, Wisconsin, Rollin Ridge is a course unlike any other. Established in 2011 it's a heavily wooded course that presents players with 18 holes of beauty and challenges. One thing that sets Rollin Ridge apart from other courses is the abundance of man-made structures, adding to both the fun and safety of each player.
Bring your $5 day fee and come ready to have some fun! Kids 12 and under play for free, creating a super welcoming environment for your young ones to join you for a round. A recently installed pro shop adds to the appeal of Rollin Ridge.
It's nearly impossible for us to cover all of the amazing courses in the Midwest, and we're sure that you know about other layouts in the area that are equally incredible. Whether you're a local or visiting from out of town, your best bet is to tap into the community to find out where the action is. What are your favourite Midwestern courses? Share with us the places on your bucket list below!