2018 has been a busy year for our touring ambassadors, and despite all the hustle and bustle of travel and competing, we wanted to check in with each player to see how everyone is doing. Keep reading to stay up to date with our ambassadors!
What has been this year's highlight?
"I'm really looking forward to Worlds. I was hoping that the European Championship would be my event but it wasn't. I had a hot last round – that was what saved my tournament. I also aced in the first round."
How has KJ viewed his performance so far in 2018?
"I'm an experienced player but I'm still learning from it. I'm always up there, I'm always close, I'm a fighter. This one [European Championship] was also a great fight but it was kind of disappointing to the very end. The last round made the European Championship worth it."
KJ's goals for the rest of the year include a top 10 performance in both Worlds and the USDGC. He's also looking to claim his 12th win at the Danish Championships.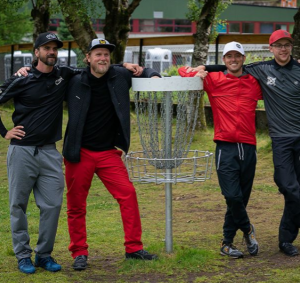 Kona has a few highlights from her year, including:
"Playing with so many new people, traveling to new states and seeing new scenery, and placing top 10 at most of my events."
While she's been performing well, her season isn't quite going as expected. Kona says she's getting a little burnt out from playing so often, so she's enjoying a week off to rest her mind.
Her goals for the remainder of the year include cashing at the rest of her events, and hopefully coming in top 5, as well as finishing the season with a 920 rating.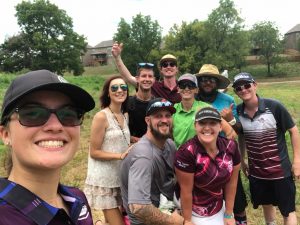 "The highlight of my season so far has to be winning the Steady Ed Birthday Bash in Highland Springs, CA. This was Steady Ed's home course where his family still lives and plays. There's so much great disc golf history surrounding this event and community that I couldn't be more proud to be a part of it," Matt shared with us.
He's had a great season, and shared with us:
"With the start of my season skyrocketing upwards this year I felt like the sky was the limit and it might be my year to win a tourney bigger than an A-tier. After injuring myself at the first NT of the year I was quickly grounded and have been slowly working my way back to the point I felt at the beginning of the season.
I finally feel 100% and started a 2 1/2 month tour at Ledgestone. I played well the final round to jump to 33rd. I'll [also] be looking to play my first international event in St. Thomas, Canada at the Flats Classic."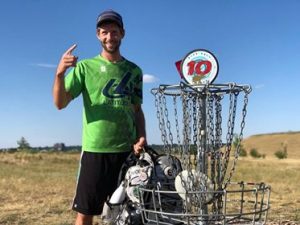 "2018 has been a roller coaster of a year starting off as I had hoped and coming up a little short in the last few months," Dylan explains.
"The big highlight of my year so far was going to GBO. It's a special place where the whole town genuinely cares about how everyone is doing and they love disc golf! My play could have been better on the putting green but I was happy where the rest of my game was at. I have taken the last few weeks to figure out how to attack on the putting green so we will have to see where it goes."
Dylan really wants to finish the year off on a strong note, but for him, that doesn't necessarily mean winning every event. Instead, he wants to walk off the course and say that he's happy with the choices he made no matter what the outcome is.
"With some majors coming up (MVP Open, Worlds, and DE Disc Golf Challenge), I can't wait to reconnect with other players and have some time away from work playing disc golf," said Dylan.
2018 has not had as much disc golf in store as Alex would have liked, but we're excited to see him out on the course next year!
Jackson has a pretty exciting second half of 2018 coming up, as he's received his first invitation to attend Pro Worlds!
"To actually be able to go as a business/playing opportunity is amazing. Shout out RPM Discs and DUDE Clothing for the support!"
Is his 2018 season going as planned?
"Honestly so far I haven't gotten the wins I have wanted with only one win, one 3rd, and a bunch of 2nd place finishes, but I feel something good coming my way," shared Jackson.
"One big goal of mine is to play to my rating at Pro Worlds and do the best I can to represent my country New Zealand and my sponsors RPM Discs and DUDE Clothing as best I can. Another big goal/challenge ahead of me will be to try to defend my Australian MPO title from last season."
Zoe Andyke & Dustin Keegan
Zoe and Dustin are always seen as a traveling pair, so we got to check in with both of them at once. Here's what Zoe had to say:
"At this point in the season, we are both very excited to be back out on tour, as we just left Oregon on Monday (August 13th). Dustin and I took a short break from the national touring scene – for me it started after the Beaver State Fling and for him the following week after Utah Open!
It was a much needed and necessary break to focus on the growth of the non-profit, UPlayDG, and also on our personal training and disc golf games. We were able to pause our work on the organization in a place where we felt good about leaving it. We were also able to get into a solid workout and training routine that we believe would best benefit the remainder of our seasons.
Seth Munsey with Disc Golf Strong designed weekly training routines to focus on building our strength around muscles used to perform disc golf actions. To accompany the physical training, we both chose to abstain from any alcohol consumption, and are doing our very best to limit any sugars for 8 weeks leading up to the World Championships! Although the conclusion of that tournament will have a celebration, together we will stay committed to finishing our US Championships the same way!
Up to this point, I am proud of some top 10 finishes at NT's especially coming off of an early season wrist injury. My goal is to finish in the top five at each of the remaining big events, but it's the title at each that I'm hungry for!
As for Dustin, he feels good about his breakout season on Dynamic Discs with three wins and two great NT performances. Overall his goals are focused on consistently finishing at the top of the leaderboard!"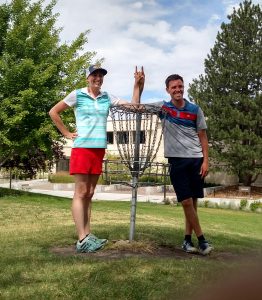 Due to an injury, Tomas has not been able to play this season. We wish him the best and hope he can get back out on the course soon!
Like several of our other ambassadors, Melodie has been battling an injury that has really impacted her play. She shared with us that her season has not gone as planned, as she's only played three tournaments yet won two of them.
"Although my rating is 30 points lower than normal, I have shot above my rating in each tournament," she said.
"I'm hoping the highlight of my year will come up at Worlds and USWDGC. But it's hard to say since I'm still dealing with limited strength and range of motion. I just hope by the end of the year to have my rating back over 920."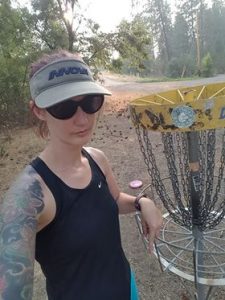 Jordan's season has given him the opportunity to grow, and while he says his performance has been worse than he planned, his overall experience on tour has been better than he expected. He notes that his first round at The Bloom in Colorado and subsequently making it on the chase card was a highlight so far this year.
What are his goals for the remainder of 2018?
"My driving has been solid, [but] I want to have a tournament where at the end I can say that I putted well. I also want to get on the lead card for a final round."