DUDE Clothing, a Western Australian company whose name has become synonymous with top quality, sport-specific disc golf apparel, is proud to announce that they are an official merchandising partner and tour sponsor for the 2016 Disc Golf World Tour (DGWT).
DUDE is designing eight exciting new official DGWT products which will be available exclusively to players and spectators at all DGWT events beginning in March 2016. The tour will take place in host countries such as the USA, Estonia, Sweden and The Czech Republic. It will also feature of some of the world's top-ranked competitors including DUDE sponsored athletes 4x World Champion Paul McBeth, World Distance Record holder Simon Lizotte and Discmania sensation Eagle McMahon.
Disc Golf World Tour and Spin 18 CEO Jussi Meresma said "We are delighted to welcome DUDE to the DGWT family of renowned commercial partners. It's a huge leap forward for our sport to have professional companies front the world stage."
"We are honored to partner with such a momentous event that is the DGWT," DUDE Managing Director Chris Finn said. "Our partnership with the DGWT will be beneficial for players, spectators and for DUDE Clothing as we stand side by side on the world stage of the sport. We are committed to making a difference in the lives of disc golf players worldwide and the wider community through outreach programs," Mr. Finn said.
To celebrate the worlds first Disc Golf World Tour, both players and followers of the events will be able to obtain limited edition tour merchandise. The DUDE DGWT apparel will be included in tournament player packs and will also be available at event stalls and participating retailers online.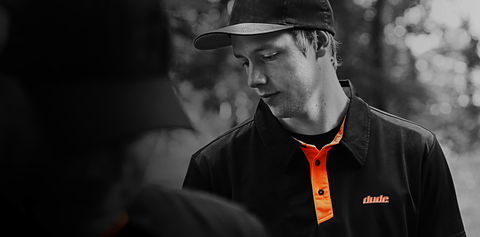 DUDE Clothing will also retail their full product line alongside official DGWT merchandise at the event. This will include their new 2016 product line due for release in May.
"DUDE are ecstatic to be taking the design of professional disc golf apparel to the next level. Our collaboration with the DGWT will assist us in providing a global audience with the premier product that all players deserve," Mr. Finn said.
DUDE will be featured prominently online and in print media as an Official Partner of the DGWT. The premium positioning of banners and logos will be allotted for DUDE at all DGWT events to ensure maximum exposure to players, spectators, and media coverage.
All competitors will be playing for the honor of wearing the official DUDE Gold Jacket, worn by the champion of this ground-breaking world tour.
"It's an honor to be given the opportunity to work together with the DGWT to help deliver our professional sport's image to a mainstream audience," Mr. Finn said.