If you've been on social media at any point during your disc golf career, you've likely seen images of Blue Ribbon Pines. The fairways are breathtaking, and it's without question one of the most beautiful disc golf courses in the entire world. Many players dream of making the voyage out to this well-known site, and if you're fortunate enough to have played there before, then perhaps you ran into Ray.
The owner of the course as well as the primary grounds caretaker, Ray Jordan sort of fell into the disc golf community without realizing it, but now has an unmatched passion for the sport. We spoke with Ray to get the background on Blue Ribbon Pines and to learn just how much of a driving force it is for local Minnesota disc golfers.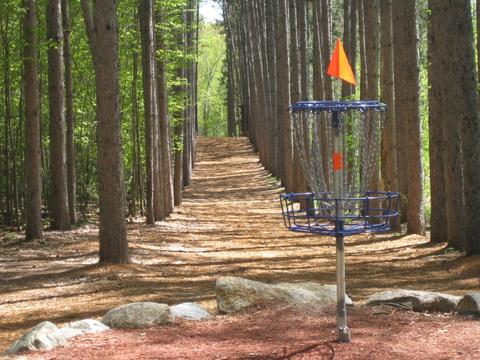 photo: Ultiworld Disc Golf – A Statistical Breakdown Of Blue Ribbon Pines
A Family Affair
As the third generation owner of a family landscaping business, disc golf was never on Ray's mind. His grandfather had purchased the tract of land that BRP is now on, and the idea for a course came out of the blue. "I was running the business with my brother, three cousins, and my father. I got talked into building a disc golf course on our property. I didn't play," Jordan said with a laugh.
Working closely with local pro-Timmy Gill, Ray soon began to learn what disc golf was all about. "It wasn't because I was addicted to the sport, I just thought it was a good idea. I learned how to play the same time we were installing it," he shared. Ray attributes his love for disc golf to Timmy personally, noting that he's one of the best players in the state and that his vision for the course was second to none. This cooperation leads to a huge passion for the sport, and Ray now happily plays the course alongside locals and visitors alike.
BRP Over The Years
The course officially opened in August of 2006, and since then has been the site of countless tournaments, but also holds so much more magic. Jordan explained that this summer the property will host a multi-day music festival with over 300 people camping across the area.
While reminiscing about his experiences over the last 12 years, Ray recalled his most memorable event: in 2016, after The Majestic, DUDE Ambassador Alex Geisinger proposed to his girlfriend on hole 27. With a laugh in his voice, we could almost see the twinkle in his eyes, as Ray clearly has an immense amount of love for his course and the sport as a whole.
What drives him to put in countless hours of work day after day maintaining Blue Ribbon Pines? For Ray Jordan, it's the people who come to play the course day in and day out: "Because I love the game so much, I ended up meeting all these people. Now I've fallen in love with the people and the reason I do what I do is for them. The best thing about the game isn't some hole, the best part is the people."
If you haven't visited this incredible course, place it at the top of your bucket list as soon as possible. And when you get out there, be sure to thank Ray for all that he's done for the sport of disc golf.