Great Lakes
If you follow any touring disc golfers on social media then you no doubt saw the scorching temperatures that hit the Midwest last week. Players were forced to spend their practice rounds in a humid heat that had everyone worried for the weekend, but thankfully the disc golf gods shined down upon us and brought in perfect weather for this year's Great Lakes Open.
Although it may have been a comfortable temperature on the course, playing the nearly 10,000 foot layout was anything but. While the Toboggan course hardly has any OB to contend with, tall grass bordering each fairway and the massive amounts of elevation changes gave competitors a run for their money. While it's common to see one or two players truly excel in a given weekend, Saturday was truly one for the history books.
Course Records Abound
It's been a few weeks since the last DGPT stop, and players were eager to pass the test called the Toboggan course at Kensington Metropark. While a ton of men played well and rounded out their day with a -5 or -6, only a few had the strength to battle their way to all-time highs. Paul McBeth, Kevin Jones, and Dave Feldberg all ended their rounds at 11 under par, with Nikko Locastro and Midwest native Cale Leiviska coming close behind at -10.
The tournament started off with a bang for the ladies, as Jessica Weese nearly missed her tee time yet brought home a stunning round anyway, carding an eagle on hole 2 and giving herself a two stroke lead going into day two.
Was That For Real?
We'd bet that most of you have heard the news about Paul's superhuman round on Saturday, but if not, we'll summarize. The previous course record at Toboggan was impressive enough, but McBeth started his round with a birdie on hole one, an eagle on hole two, and just kept going for the next 16 holes.
Perhaps his only misstep was taking a par on hole 10, but when it was all said and done, he shot an 18 down. Shooting this caliber of a round is hard enough when you're on a small pitch and putt course, but to battle with nearly 10,000 feet of extreme elevation and come away with an 1108-rated round is truly next level play.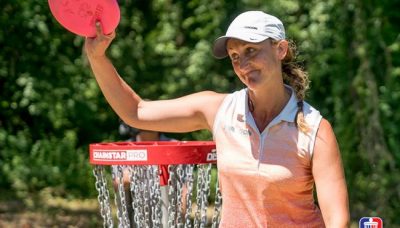 That morning a major momentum shift also happened for the female division, as Sarah Hokom smoked the course with a 6 under, positioning herself nicely to take home the win. That she did, with Paige Bjerkaas cashing in on second place and Jessica Weese rounding out the top three in third.
The Push For Second
It's no surprise that McBeth won the Great Lakes Open, but what's shocking is that his overall score was 40 under par. Players pushed hard on Sunday to battle it out for second place, and Michigan native Willie Prince just edged out lead card players Nikko Locastro and James Conrad to land in the number two spot. Third and fourth went to Nikko and James respectively.
While a handful of players will be attending the famed Konopiště Open, others are laying low until the Idlewild Open in Kentucky. We want to know – do you think McBeast is back? Was his performance indicative of the old Paul we know and love, or did he just get lucky? Let us know in the comments below!
See full results Here
McBeth's 18-Under on ESPN (HQ)

Here's the high-quality version of Paul McBeth's 18-under highlights as seen on ESPN's SportsCenter!Many, MANY thanks to the disc golf crowd at ESPN for helping get this on the air. They're out there, and we have a feeling their discs are going to be flying a little more straight this week.

Posted by Professional Disc Golf Association on Monday, July 9, 2018
Watch Paul McBeth in action