Disc golf in Minnesota has a lot to offer with a ton of variation in courses and enough changes between each of the four seasons to give players a truly unique experience no matter what time of year they're competing. Despite the fact that snow was on the ground only a handful of months ago, players at this year's Majestic battled hot temperatures and even hotter competition.
It's Not All BRP
The Minnesota Majestic is synonymous with Blue Ribbon Pines, an incredible course that's recognized around the world. As this tournament has grown by leaps and bounds, organizers have found that playing across multiple courses actually works quite well, so this weekend's event included a total of 3 courses.
Friday saw players at Kaposia Park with a long 24 hole layout while Saturday everyone moved to a shorter course at Bethel University. The picturesque Blue Ribbon Pines hosted players on Sunday, and with 24 holes that totaled 9,600 feet, it was a day to remember.
Exceptional Talent Creeps In
You'd think that the Minnesota locals would completely dominate this tournament, and for the most part that tended to happen early on. While 6 of the top 10 men after day one were from the area, a surprising amount of West Coast skill made its way into the ranks.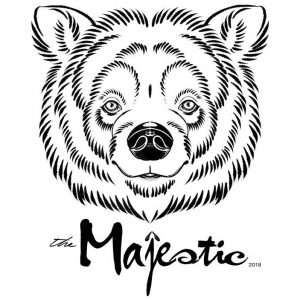 Alex Russell from Vancouver, Washington, James Proctor from Petaluma, California, and AJ Risley from San Marcos, California showed up in a big way, giving others the message that they didn't come all this way to lose.
The name that many look for at the top of the list when talking about The Majestic, Cale Leiviska, certainly made an appearance on day 2, as he shot a 1044-rated round and gave himself a chance for a great finish. Local player and DUDE Ambassador Alex Geisinger may not have graced the top of the pack during the event, but he still had a great time:
"This year's Majestic was one to remember with the most extreme and challenging of playing conditions yet it was seamlessly run by the tournament director/MFA president Tommy Locke. I personally didn't play up to my expectations and finished in 20th place. However, I'm already looking forward to next year to see how much bigger and better this tournament will become!"
Final Round Excitement
Despite super hot weather and the challenging layout at Blue Ribbon Pines, it was clear that players in the MPO field wanted the chance to hold up the massive plaque featuring their name as this year's winner. Cale came charging during Sunday's play but it was Alex Russell who ended up taking first with a two stroke lead over Leiviska who ended in second.
Scores were pretty tight among the open men's and women's divisions while other groups saw slightly less drama overall. With 130 players in attendance and the good vibes that The Majestic always entails, this year's event was one for the record books. After all, any time you get the chance to play at Blue Ribbon Pines is pretty special.
See full results Here!