If you're curious why you never see KJ Nybo at the Las Vegas Challenge each year, it's because he has other ideas in mind. Skipping the first event of the season, he heads straight to sunny Arizona to start practicing for The Memorial. February is an incredibly cold time in his home country of Denmark, so Nybo takes the time he needs to adjust.
And adjust he does, as he's frequently been known to shoot impressive rounds on the Fountain Hills and Vista Del Camino courses. What's his secret to success? We recently got to learn about how his adaptability pays off in his disc golf game.
A Big Transition
"It's a long flight over the pond," KJ said with a laugh when talking about his trip from Copenhagen, which routes through London and lands him in Phoenix nearly an entire day later. Despite it not being particularly snowy this year at home, the weather change and time zone differences are enough to throw his body off for a day or so.
Despite such a major difference, he doesn't think much about it. Instead, he notes that coming to the US to play offers major advantages: "It's a big difference coming from natural tees to concrete or turf pads. I really like having tees because that's a big thing for your run up. That's the biggest difference between Denmark and here. It's pretty muddy; if it's not snowing or freezing, then it's muddy. Mud just makes the surface slippery."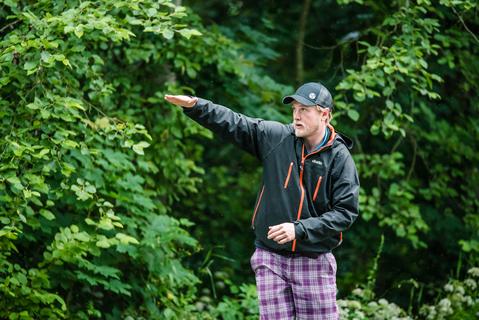 What To Bring?
It's not a quick trip to visit the US, so you can only imagine the amount of luggage that Nybo brings with him, right? His priority is always on his discs, and his disc golf bag serves as his carry on. He packs for all kinds of weather, so he tends to be prepared for whatever comes his way. "If my other big bag is lost with discs in it then I'm stuck. I can always go to practice while I wait for them to find my bag [if it gets lost]. I can always buy clothes but the discs are a must," he emphasized.
Speaking of clothing, Arizona offers a reprieve for KJ in more ways than one. Aside from getting some much-needed sunshine, he has the ability to perform better with fewer layers on. "It's tough to have a lot of clothes on [in Denmark] and you don't really have the right feeling in your hands because it's cold. All of the long shots – if your body is cold it's not as nice throwing," he said.
Planning Ahead Pays Off
Since it's hard to practice in the Danish winter, it takes a bit of time in Phoenix for KJ to get back into the groove. He leverages vacation time with his employer back home and ensures that he can come to the event early enough to get practice time.
"[I focus on] getting a lot of shots in, having the putt feeling back, and having some confidence back on the throws. Just knowing that I can do the shots and just prepare for that. That's most important for me, getting the confidence back," Nybo explained.
With discs that fly better over here due to warmer temperatures and a thorough plan in place, KJ is poised and ready to make the most of his time during his 2018 season. We're excited to see what he has in store for this year!