When was the last time you pulled a massive trailer around the United States and got to absorb disc golf culture, American ways of living, and all kinds of shenanigans in-between? For us at DUDE, that voyage just took place for us last year, as we completed a massive US tour from coast to coast with the Stealth trailer in tow.
The head DUDE himself, Chris Finn, drove the beast around until early March with Steve and Sharon Manning picking up where he left off and touring the nation through October. Some of our pros even got to come along on the journey up through May. All in all, we were able to impact an incredible amount of local towns through DUDE Community events and we got to witness some of the best in the sport of disc golf competing for large winnings and bragging rights. Here are some of our favorite memorable moments from the 2017 tour where we truly lived the dream!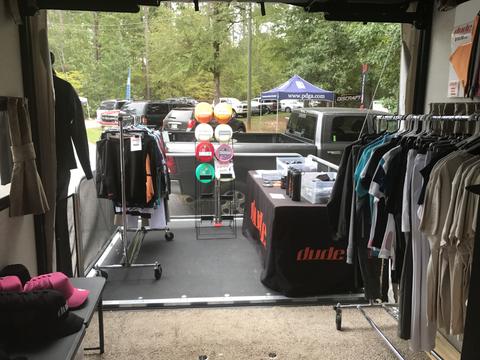 The Good
Many Aussies dream of being able to see parts of America, and it's the smaller and rural areas that are often more special than the big cities themselves. As we traveled throughout the country, we were astounded by the hospitality of disc golf families we met along the way. The support we received from so many people, from giving us driving directions to help us figure out places to stay, even further solidified the love we feel for the disc golf community.

Being able to stay at some of the disc golf courses was also a true blessing, as it helped to make our experience even that much better. We won't like – it's not tons of fun to stay in an RV park full of grey nomads. We'd much rather get woken up by the sound of chains at sunrise as competitors warmed up. You could literally feel the energy in the air!
The Parts That Could Have Been Better
No one's tour is flawless, even those who have been doing it for years on end. Not only do you have to keep to a tight schedule, but accounting for time zone changes, long stretches of driving in between events, and the fact that we were on the other side of the world from our homes made it a challenge at times.
While an RV as large as the Stealth seems like a dream come true, it certainly has its downsides. Have you seen how many tires are on that thing? More than once we were surprised with flat tires and maintenance issues that were completely out of our control. We weren't always fortunate enough to have a course to stay at and saw our fair share of Walmart parking lots as our overnight spots.
As awesome as RV living can be, where do you do your laundry? That's right, we saw dozens of laundromats all across the US! When you're busy on tour the last thing you want to do is spend hours waiting for your clothes to wash.
What About YOUR Tour?
All in all, our 2017 tour was incredible, even if we did have a chat with a state trooper when we weren't expecting it. It was great to see people's reactions to our accents and wonderful to be immersed in the disc golf community day in and day out.
Are you planning a tour in 2018? If so, let us know what you think will be the most fun and most challenging aspects in the comments below!