Connected
Those of us who have gone on tour know all too well that even in today's technologically advanced age, there are still some places in America where you can't get cell service. While it's shocking and sometimes frustrating, what's worse is coming back from the road to find out that your cell phone plan didn't have the right features set up and you got charged a hefty amount for all of those roaming and hotspot services.
Instead of paying your cell provider through the nose or simply going without what has become a necessity, let's explore some things to think about when it comes to staying connected while on tour.
Surprise Surprise
We have nothing against cell phone companies, but let's face it – they can be a little tricky when it comes to hidden fees. Whether you're traveling in the US or abroad, it's crucial that you understand the features of your plan, as one 30-minute international phone call can cost upward of $50 and data charges can be extreme.
If you're unclear, check with your carrier before leaving for tour. You may find that your monthly bill goes up a little bit but that added cost will be much cheaper than if you end up going over your allotted allowances. Not all plans are the same, nor are all areas of coverage, and if you're going to be on the road for a while it might be smart to completely switch services to another company who will give you more reliability.
Take Advantage Of Hotspots
Assuming your talk, text, and general items are considered, you might still find that an area of the nation with poor coverage could present a problem. What if you're trying to upload a video of your round and the connection is just so poor that it won't work? Times like these call for WiFi, but where do you go if you're in the middle of nowhere?
If you need to stay at the course we can't help you much there, but assuming you have access to drive into the closest town, there are a ton of businesses that offer access to free WiFi. Remember, each location could vary, but in general, you can count on these places to have the hookup – literally:
Starbucks

McDonald's

Whole Foods

Dunkin' Donuts

Panera Bread

Target

Best Buy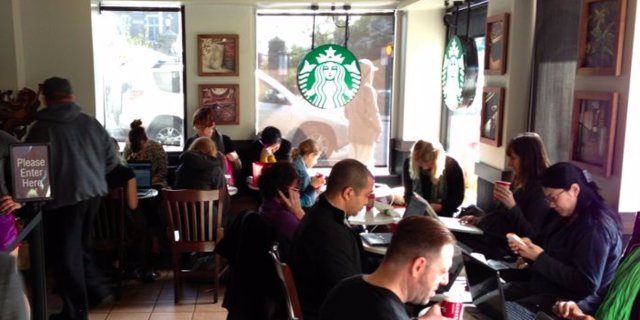 If you don't feel like visiting any of the above places, keep in mind that public libraries, airports, gyms, and train stations may also have free WiFi available.
There's no reason why going on tour should mean that you struggle with cell phone service and can't access your email, social apps, or even GPS directions. Although many courses you play might not have the best reception in the world, that's not really what you're there for, right? When in doubt, think about all of the sightseeing you can do as you enter into any given town across America on your search for better cell service and WiFi that you can count on!