It can always come as a bit of a surprise to hear that your favourite touring player has made a move to a different sponsor. Sometimes it makes sense and when you look back you've seen the signs coming, while for others it seems completely out of the blue. There are players that seem to jump from team to team each season while others stay true to their original partnership and wouldn't ever dream of leaving.
In case it's been difficult to keep track of all of the changes in 2018, we thought we'd highlight a few major shifts within the sport and talk about the role of a sponsor when it comes to a professional's success. While we never really know all of the details that contribute to a change, there are typically a few common reasons that influence players.
Notable Changes
Two of our very own DUDE Ambassadors made a big change for the 2018 season, as Zoe Andyke and Dustin Keegan moved from Team Innova over to Dynamic Discs. Both of them couldn't be happier with this new support, and as they become more and more comfortable with their new disc selections, we're sure they're going to absolutely crush it on the course this year.
Another change was that of Drew Gibson doing just the opposite of Zoe and Dustin, as he left DD to join Innova. AJ Risley, Peter McBride, and Chris Clemons also moved from their previous teams over to DD, noting that it seemed like a better fit for them and their goals for this season and beyond.
Sponsorship And Support
If you've ever embarked on your own disc golf tour before, you probably noticed how quickly the costs seemed to add up. Whether it's finding lodging because you aren't well-connected on the road, paying for tournament entry fees, or having to restock your bag after a round at Fountain Hills, the money seems to fly out the window.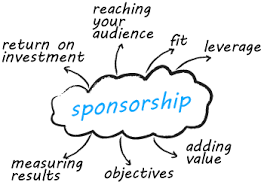 This is one of many reasons that pro players rely so strongly on having a good partnership with their sponsoring team. Now that's not to say that having a sponsor means your way is paid for you in full, but often times financial help is a perk of the deal. Some teams offer a flat dollar amount per year while others allocate spending money for specific items. Let's not forget that free plastic and sometimes free gear helps too!
Nearly any player you talk to would instead cite how much their sponsorship means in terms of having a community of people who are rooting for the day in and day out. Grinding it out on tour can sometimes bring challenges to one's physical, mental, or emotional well-being, and knowing you have someone there to encourage you along the way is essential.
So why do people change sponsors? The reasons are varied, but most of the time it has to do with the relationships that have been built between players and their new teams. An alignment of philosophies or even just more familiarity with a certain disc lineup can also contribute to sponsorship changes. In the end, as long as players are performing well and are happy, the partnership can thrive!