The name might change from time to time but the setting remains the same, as competitors often look forward to their chance to attend Maple Hill in the fall. A beautiful and immensely challenging course in Leicester, Massachusetts, it's home to the infamous pie eating contest, the best game room out there, and in 2018, The MVP Open.
In years past you may have known this event as the Maple Hill Open, the Vibram Open, or for you true history buffs the MSDGC. However, as it is now technically the inaugural MVP Open, this tournament already has an exciting story – let's see what happened!
A Blast From The Past
It's not a stretch to say that this year's season has been pretty interesting, with winners coming out of nowhere and other well-known faces drifting off the lead cards more and more regularly. However, during round one of the MVP Open, it was like looking at an event from 2014 all over again. Shooting the hot round of 8 down was Nikko Locastro, with Nate Sexton, Paul McBeth, and East Coast native Steve Brinster all hot on his tail at -6.
Sarah Hokom and Paige Pierce both set out with intense play and despite carding their own fair share of bogeys, they landed in a shared position at the top with a two down each.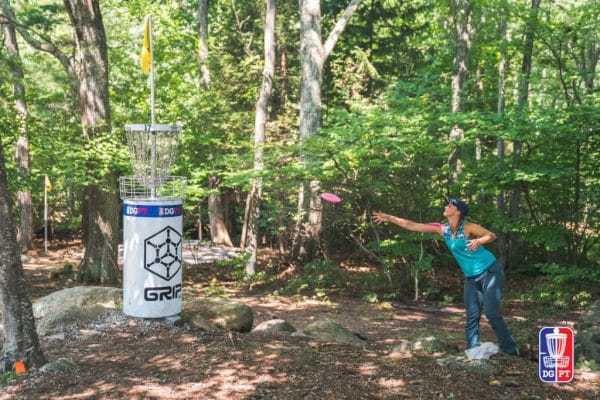 Image Source
Coming In Strong
During Friday's play, Ricky Wysocki uncharacteristically missed a number of putts and seemed as if he wasn't performing to his potential. On Saturday, he returned to the course determined to make up for lost time and completely dominated his round. Not only did he shoot a bogey-free 13 under, but an ace on hole 8 was just the kind of momentum shift he was looking for.
However, he couldn't relax just yet, as others in the Open field were performing equally as well. Kevin Jones carded a 9 down and James Conrad shot -8 and was also completely bogey-free.
While things were tight on the men's side, the women's winner was pushing herself farther and farther ahead of the rest. Hokom had another great round at 4 down, and while she was tied with Pierce after Friday, Paige lost her focus and shot a +5 during round two. This left room for another Paige on the lead card, as Paige Bjerkaas moved up into the second position.
Drama To The End
Sunday's final round hosted a wealth of talent on the lead card, as Paul McBeth, Ricky Wysocki, Calvin Heimburg, and James Conrad all had a chance to win the first MVP Open. Not only were spectators drawn toward this grouping, but chase cards and beyond also featured players who could go off at any time and come back from behind.
While McBeth pushed, Conrad answered and ended up winning at Maple Hill by one solitary stroke. Typically cool under pressure, Wysocki carded a +1 for the day and ended up tied for 8th place with a handful of other amazing competitors.
Image Source
Things were fairly cut and dry for the FPO field, and as Sarah started Sunday's round with a decently sized cushion, she yet again played well to earn herself the win. She and Conrad were seen later on jumping into the lake as is the tradition at Maple Hill.
This was the last DGPT stop in 2018 before the championships, but before that we have another exciting event coming up – Worlds! Held at Smuggler's Notch this year, we're excited to see more Northeast disc golf. Who do you have your money on for the 2018 World Champion? Let us know in the comments below!