For those of you who live in the Northern Hemisphere, the sights and sounds of fall are just around the corner. Everything Pumpkin Spice is invading store shelves and the weather is steadily changing from blazing hot temperatures to days that are more mild and comfortable. As you transition out of your summertime disc golf routine, it's important to take a look at your wardrobe as well.
If your entire closet seems to be filled with Dude Polos without anything else in sight, you're probably going to be in a bit of a panic. Short sleeves don't cut it during the fall and especially not in winter, so what's a player to do? Wearing layer upon layer of clothing isn't always fun either, leaving many scratching their heads and wondering how to overcome this dilemma. We have just the answer – but you have to hurry so you don't miss out.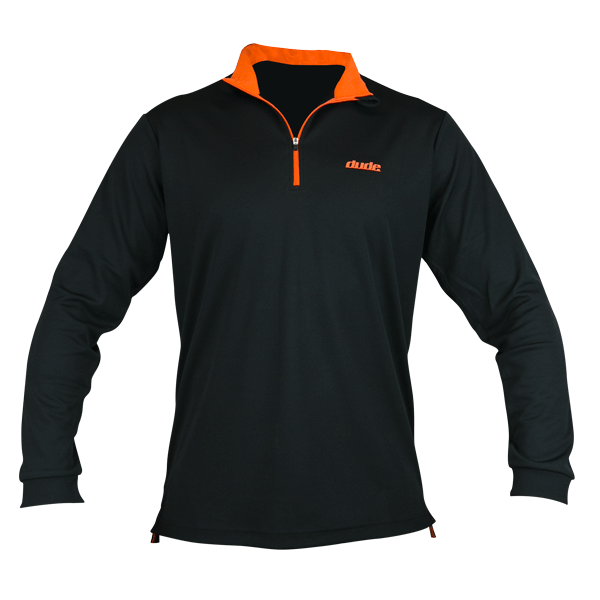 The Maple Polo
Disc golfers who are fans of our shirts will no doubt recognize similar features in our newest garment, the Maple Polo. Crafted from 100% polyester that boasts moisture-wicking properties, it will keep you warm and dry during even less than ideal conditions. Long sleeves with a unique cuff guarantee that they won't stretch out over time, and our classic black and orange colorway will look awesome any day of the week.
The Maple Polo offers an athletic fit, making it look tailored enough to wear to the office if desired or out to the grocery store for a quick trip. As with all of the Dude garments, this shirt gives you more than just another top to wear on the disc golf course. A front quarter-zip allows for easy on and off as the Maple Polo layers well over any t-shirt.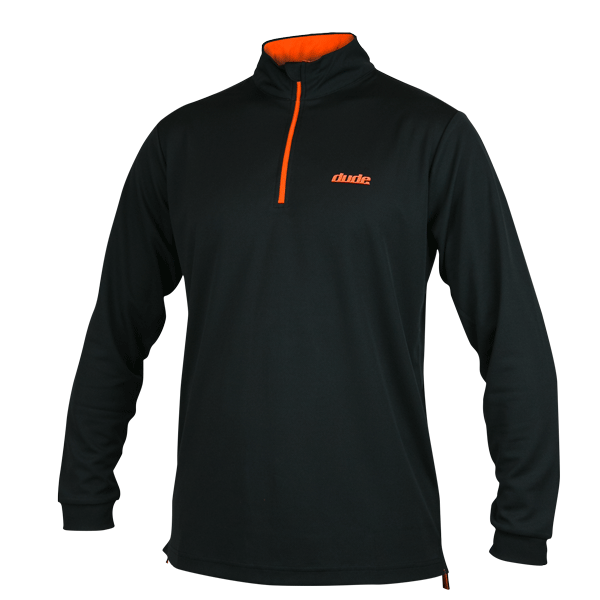 If you're concerned about buying another shirt and think your significant other might send you packing, keep in mind that the Maple Polo is ideal for casual days at the office, holiday get-togethers with the family, and so many fun occasions. More than any other brand, Dude Clothing truly transitions seamlessly from the disc golf course to other facets of your life with ease.
Don't Miss Out
Nothing good in life comes for free, or for very cheap for that matter, but we like to pass on savings to our customers any way we can. For a limited time, we're running an exclusive pre-order for the Maple Polo, giving you 20% off its retail price. You can only unlock your discount through the end of September, and we expect all orders to be delivered by November 1st just in time for those brisk fall rounds.
All you have to do to take advantage of this deal is sign up here with your name and email. You'll receive your discount for the Maple Polo, but make sure to act fast before our pre-order is over. We can't guarantee that we'll make this shirt available again in the future, so if you've been feeling like your fall and winter disc golf wardrobe is missing something, here's your solution.