Whether you decide to hit the gym or hit the field to get your body into shape, there's one element that you can't go without. Training for any sport requires putting in a lot of hours and that usually means you need clothing that's comfortable even when you've sunk your 100th putt or just reached mile 5 on the treadmill.
This aspect of training is what led us to create our Ultimate Tech Stretch Shorts. Imagine being able to move freely and staying cool during your most grueling training sessions – these shorts can do exactly that and more. Let's take a closer look to see what makes them so special.
How Can Shorts Be Special?
If you've been an athlete for a long time, you've probably tried every pair of shorts out there. Ones with elastic waistbands that pinch or ones with a zipper fly that restrict your movement don't really cut it when you need to train hard. Our Ultimate shorts give you the freedom you've been looking for with the combination of an elastic waistband and an action gusset. Imagine doing yoga or throwing drives with garments that let you move any which way – what a concept!
The key is our 4-way stretch material that's composed of polyester and spandex. This breathable fabric wicks moisture away quickly, allowing you to continue training without feeling like you have a wet bottom.
Bringing Style To Your Routine
Everyone's plan for training looks a little bit different, and whether it's a weekend off and you're hitting the course hard or you simply want to keep your skills up to par by doing a little bit each day, the Ultimate Tech Stretch Shorts will keep you looking good.
From afar they look like any other pair of dark charcoal shorts, but close up you see what makes them so unique – a custom DUDE pinstripe offers a bit of intrigue and amps up the style factor, blending function and fashion with ease.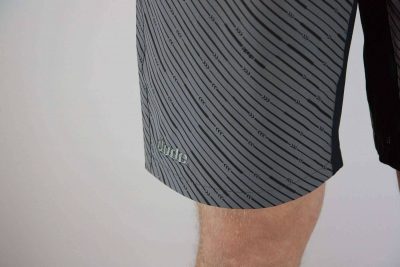 The shorts also offer a concealed spandex pocket for your phone so you won't have to worry about it falling out during even the most strenuous activities. A 19" inseam guarantees these shorts will fit your body in a flattering way.
More Than Training
We're pretty confident that the first time you put on these shorts you'll wonder why you waited so long to buy a pair. The next thing you'll do is probably order a second set because they go from the course to the rest of your day with ease. Wear them to your family BBQ or when you're out running errands in the hot summer sun. Maybe, just maybe, you can wear them to work depending on how relaxed your boss is.
Do you own a pair of the Ultimate Tech Stretch Shorts? If so, we'd love to hear your thoughts in the comments below. What's the most rigorous amount of training they've been through, and how many compliments have you gotten while wearing them? If you don't yet have these shorts in your wardrobe, now's the time to make the best purchase possible for your disc golf training needs.