With a name change and modifications to all three courses, the Las Vegas Challenge was primed and ready to see some action this year. Formerly known as the Gentlemen's Club Challenge, tournament directors and staff worked tirelessly over the last several months to install new turf tee pads and complete general course improvements.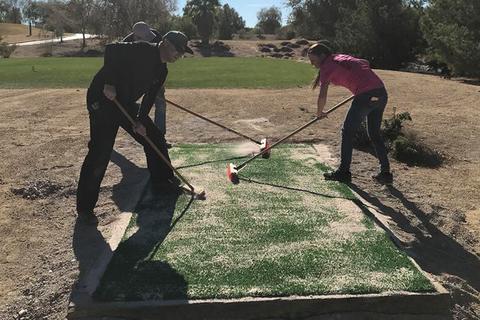 As the first NT of the season, big names showed up to make some moves across the Disc Golf Values, Innova, and Terrex layouts. If you didn't get a chance to watch live scoring or post-round production, here's how it all went down.
New Faces On Top
Let's rewind back to Thursday the 22nd – the men's open division started their tee times right around when the desert wind picked up, providing challenging conditions on day one. After playing through wind speeds that can only be described as insane, a few lesser known names rose to the top of the list after fighting through all 7,124 feet of the DGV course.
Jesse Adams out of Utah and Joel Freeman from Colorado shot exceptionally well at 10 down and 9 down respectively, leaving past winners farther down on the scorecard than we're used to seeing. However, as the days progressed and the OB became more and more fierce, a huge shift was only bound to happen.
Finessing The Course
Round two took place on the Innova course, known for challenging players and putting them in risk vs reward situations to no end. Despite having many opportunities to card birdies and the occasional eagle, the name of the game on Friday was simply staying clear of the OB.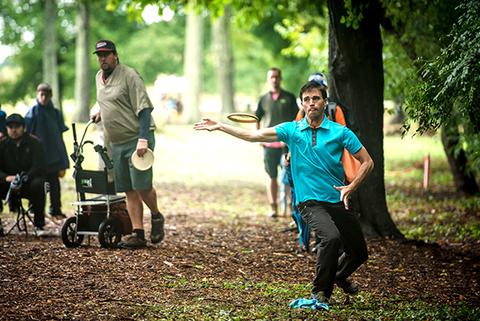 Coming back to the 2018 season after a shoulder injury, DUDE Ambassador Dustin Keegan took home the hot round that day with a 51, propelling himself to the lead card for day 3. He shared with us a bit about how the weekend went for him after his final round on Sunday:
"It feels so good to be healthy. The changes the staff made this year were amazing and this venue is turning into a must play! I played great off the tee overall and really putted well with my Daggers. Overall I'm really excited for the rest of the year!"
Where Is Everyone Else?
That question had to be on the minds of those in the gallery and disc golf fans watching live scoring at home, as 2017 champion Ricky Wysocki and 4x World Champion Paul McBeth were shooting scores much higher than normal. Round 3 on the Terrex course saw McBeth turn on the heat, finishing with a smoking 11 down, yet he was bested by both Simon Lizotte and Eagle McMahon who each carded a 49. Wysocki was seen farther down the ranks with a 54.
Sunday brought us a flashback from the previous weekend at The Wintertime Open, where we saw familiar faces battling it out with a relatively unknown player. Vegas' lead card saw the likes of McBeth, Lizotte, McMahon, and Joel Freeman, who continued to capitalize on his impressive play at the start of the event.
An Exciting Final Round
It was nearly anyone's game for much of the day, yet around half way through the back nine Eagle continued to gain strokes on the card and created enough of a buffer to win. Although we're used to seeing both McBeth and Wysocki really turn it on and makeup strokes, something just seemed to be off. Ricky ended up tied for third place with Nikko Locastro with Paul McBeth taking home 7th.
The Las Vegas Challenge was riveting for the women's field as well, as both Paige Pierce and Catrina Allen brought their A games. Scores were locked up between the two women through the bulk of the final round, but with a few bogeys slipping out at the end, Allen ended up tying for 2nd with Sarah Hokom.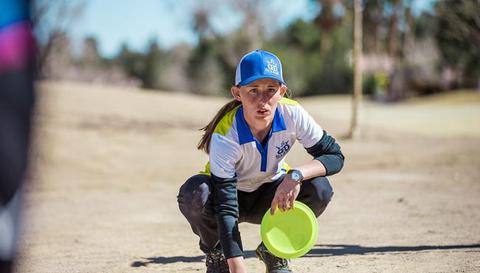 There's hardly any time at all for players to make the trek to the next tour stop in sunny Arizona, so things should be interesting at this year's Memorial. We're ready to see some great golf on the infamous Fountain Hills course and look forward to seeing some hot competition!
Watch Jomez Pro Round 4 Back 9…….