With virtually no lag time between events, some of disc golf's top names traveled a short distance to Delaware for the next NT on the 2018 tour. After a surprising finish for many at Worlds only two weeks prior, players had their sights set on dominating the difficult Iron Hill course. The field for this event was smaller than most NT's out there, as some of the pro field traveled north for the Canadian Championships.
Let's take a peek at some of the action during this three-day event – like most other tournaments we've seen this year, it wasn't short on surprises!
Hot From The Start
Neither Paul McBeth or Ricky Wysocki ended Worlds the way they wanted to, and this fire in both of them was present from the start of the Delaware Disc Golf Challenge. Iron Hill presents quite the challenging layout, with a par 72 that stretches over more than 10,000 of wooded land. Shooting the hot round on Friday at 11 down, McBeth kept his round relatively clean with only 2 bogeys. Many of the usual names were seen near the top of the scorecard and it was clear that this would be an intense battle.
Coming off of her Worlds victory, Paige Bjerkaas came out of the gate with a 977-rated round that showed the rest of the FPO field she was here to win. However, tour veteran Sarah Hokom wasn't going to let her succeed that easily and stayed on her tail during each of the first 18 holes.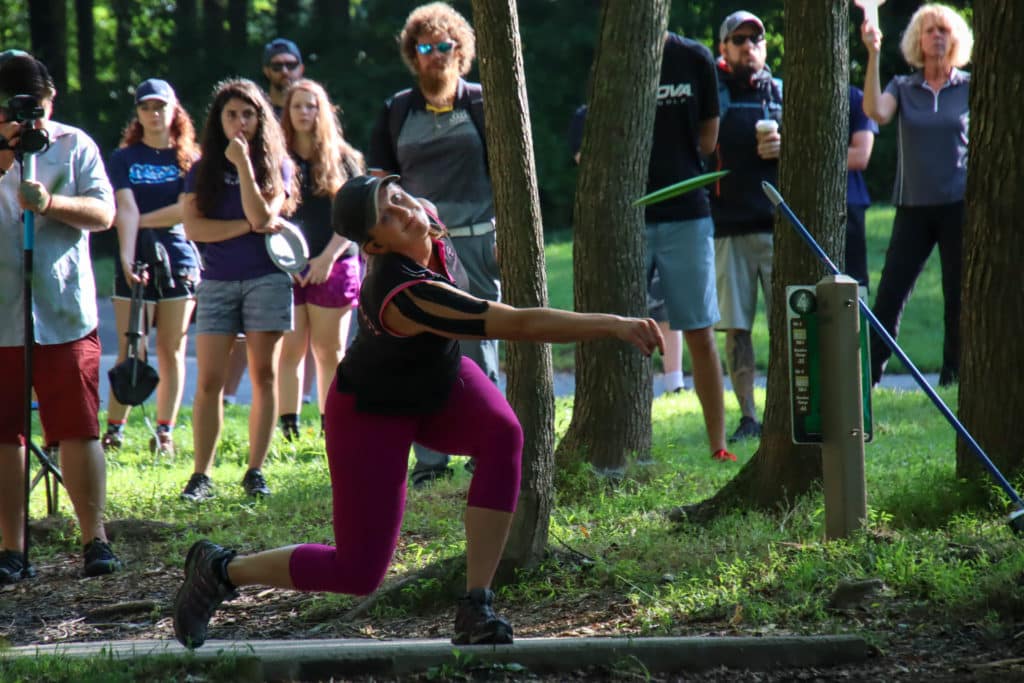 Photo Credit
Determination Prevails
If McBeth could bring home the win in Delaware, it would shockingly become his first NT win of the 2018 season. With that in mind, his second round was clean at another -11, but both Wysocki and Seppo Paju had the same idea. Saturday night would bring an event, however, that had the potential to majorly influence the outcome of this tournament.
As seen on social media Sunday morning, Wysocki was taken to the ER late Saturday night with reports of a stomach virus that caused him to pass out and lose sensation in his fingers. For anyone else, this might have signified the end of the competition, but Ricky returned to the course on Sunday after a round of IV fluids and managed to tie the course record with a 13 down.
Despite canning an eagle on hole 5, his performance wasn't quite enough and McBeth set a new record of 14 down while claiming first place for himself by a margin of four strokes. Wysocki placed second with Eagle McMahon in third.
While play on the women's side was slightly less eventful, they still put on quite the show. Hokom pushed during round two to best Bjerkaas and did so by carding a -4, and with her exceptional round on Sunday, managed to win her first NT of the year. Kristin Tattar landed in second with Paige Bjerkaas in third.
Next on many's agenda is the USDGC and USWDGC, two of the most anticipated events of the year. Who do you think will become champions? Let us know in the comments below.
Header Image Credit: Tina Oakley
Watch Jomez' coverage of the final round (Back 9)