USWDGC
The end of summer always brings some of the most exciting disc golf events along with it, and since Pro Worlds was held a bit later than normal this year, the competitions are nearly back to back to back. While many of the sport's amazing ladies were recently vying for the top spot in Vermont, they now have to switch gears to another prized event – the US Women's Disc Golf Championships.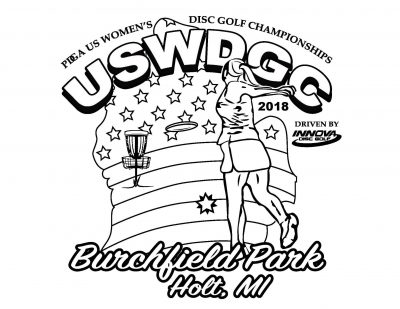 Who will take home the title and will we see any surprises on the course? Let's preview this notable event and learn more about where it's taking place.
The Courses
In a suburb of Lansing, Michigan, this year's USWDGC will take place at Burchfield Park. The area holds two courses, each that bring their own sets of challenges to the table. River's Edge, established in 2012, brings a decent amount of elevation and trees into the mix, testing the stamina and accuracy of every player out there.
Installed just a year prior, Renegades Trail offers a bit of a reprieve with more open fairways in a beautiful park setting. Whether the women competing have big arms or are more skilled at lacing tight wooded shots, there's a bit of something for everyone.
The Event
Dating as far back as 1999, the US Women's Disc Golf Championships is one of the most anticipated events each year. Its first year saw competitors in Rock Hill, South Carolina and the stage rotates each year depending on which city wins the bid. Given that most in attendance this year will be traveling from Vermont, the Lansing location is ideal for giving everyone enough to time practice the courses before the event kicks off.
This season's tournament takes place over three days and will feature 168 women across 15 different divisions. Everyone from 10 and under all the way to women 70 and over will be seen battling for this coveted win.
The Players
2018 has been an unusual season to say the least, with new faces entering the tour and unexpected women taking home wins across the nation's tournaments. Will first time Worlds winner Paige Bjerkaas also score big at USWDGC and make this year one to remember? How will tour veterans Sarah Hokom and Paige Pierce stand up against the fresh faces in the scene?

Sarah Hokom (Image Source) | Paige Bjerkaas (Image Source) | Paige Pierce (Image Source)
It's not just the Open division that will gather everyone's attention, as household name Elaine King will have 13 other women to hold off during the three-day event. Some are attending the USWDGC for the first time and only have one or two others in their division, while many ladies are repeat visitors and may be coming back with a vengeance.
Above all else, it's amazing to see this many women coming together to play in such a prestigious event. When you think about it, at the end of 2017 only 3,148 ladies were members of the PDGA, so to have such a large turnout each and every year is truly a testament to just how much disc golf is growing. Take a moment to reach out to the ladies competing, whether it's on Facebook or just sending good vibes their way to let them know you're rooting for them!