DUDE PRO POLO REVIEW
Posted by hucker on July 22, 2016, 6:53 am
Author: Michele Ramon
A Dude's Pro Polo is meant to look good, and feel good, so you can play well on and off the course.  It is the perfect shirt for the active disc golfer who is a perfectionist with quality, detail, performance, and the leader with style against the competition.  This shirt will give notice that a serious and styling disc golfer is onsite!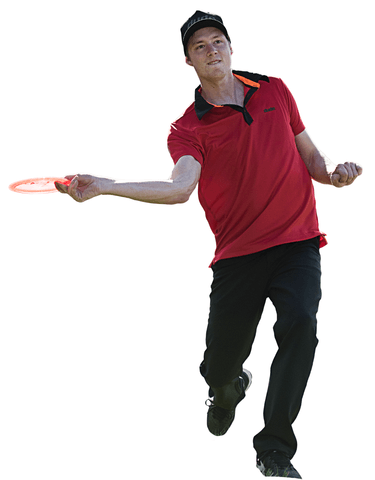 Appearance 10 The Pro Polo is a masterpiece and branded with the Dude printed logo on the chest.  The shirt is shaped with bright highlight piping for quality fit.  It Features a lightweight, breathable, high-quality fabric with a two-piece self-stand up high cut collar for extra sun protection.  The boomerang yoke is a contrasting element. The contrasting colors are very appealing to the eye!
 Design 10+ Each Dude Clothing item has a unique design feature for functionality.  This shirt features reflective and rubberized shoulder print for the grip of backpack allowing comfort and safety.  It actually grips your bag.
The designer states, "Our unique and specially designed 2 piece collar which extends to protect the neck. A slanted contrast placket, slim fit to the body shape, hi-lo hem with contrast taped side splits for ease of movement, sophisticated and functional using wicking, breathable fabric, which does not fade or lose shape. all with the Dude signature boomerang shaped back yoke."
Designed with detail and function is outstanding!
Selection 10 DUDE Pro Polos offers four different color selections: Black/Orange, Grey/Aqua, Aqua/Grey, and Red/Black.
 The color combination selection is a broad range for anyone's preference.  The black with orange is more of the traditional Dude look within their line.
 Construction 10The Dude Pro Polo's Fabric: 100% Polyester.  It is enhanced to keep you dry for comfort while playing. It's super light and it's like you barely have a shirt on. A great technical performance shirt that will deliver outstanding comfort!
 Disc golf players deserve and want the best!  Dude clothes are built to last the rigors of the game, won't shrink and lose shape and are designed not to fade quickly. Dude represents that with the best quality product on the market!
 PRICE HIGH $49.99USD
 Prices reflect the high quality and worth the money!
TEST
 I have been wearing one of the DUDE Pro Polo's for a month now.  Let's forget the specs on it right now and consider what my body and mind say about the way it feels on me.  I love this polo.  It feels light on my body, and it feels great on me too!  Even though the color of mine is black and trimmed in orange, it is NOT hot in the strong hot summer days.  It is cool.  It feels good on my body and looks good too.  I can tell from the feel of the fabric that the material is strong.  It is not flimsy.  When I wear it, I feel well dressed.  When I look in the mirror I am proud of what I see.  I plan on getting more in different colors.  There is nothing about these clothes that disappoint me.  DUDE, you have done well.  Thank you for your products. I'm glad I found you and bought from you.
SaveSave