If you were asked to make a list of the most epic disc golf courses in the United States, we'd bet money that Fountain Hills would be on that list, if not near the very top. With a grueling layout bringing plenty of OB and water into play, it's a stretch of land that's earned respect and admiration from players around the world.
As many of you might know, Fountain Hills is home to the first stop on the Disc Golf Pro Tour, and we're only days away from seeing our favorite faces battle this legendary beast. Let's take a deeper look into the details of the course and what makes it so special.
Pain And Pleasure
Many disc golfers will give you a mixed answer when you ask them about Fountain Hills. It brings breathtaking beauty along with challenging every aspect of your mental game. Nestled amidst the earthy mountains of Arizona, the course is off the beaten path in a small community by the same name.
You'll find walking paths that trail around the course's perimeter, as the land isn't only used for disc golf. Noted for its massive 300-foot fountain harbored in the middle of a lake, people from all walks of life enjoy coming to Fountain Hills to take in the rich environment.
The course itself includes 5,784 feet of exceptionally well-manicured land, with concrete tee pads and MachX baskets. Established in 1981, it's an 18 hole layout that quickly separates the best from the rest with a par 54 design.
Of all the rounds ever documented at Fountain Hills, and we'd bet there's a lot, only 47 of them have been at least 1000 rated. The mere fact that this course is such a risk versus reward type of adventure makes it challenging for some and beneficial for others who are going for glory.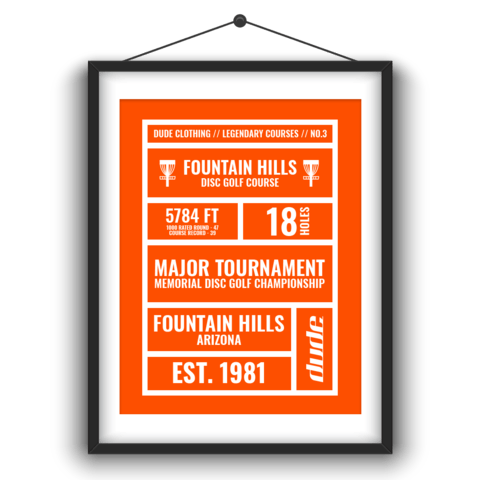 Arizona In Winter
Aside from the desire to earn bragging rights during the Memorial Championship, many professional players find themselves migrating south for the winter and spending a good deal of time in Fountain Hills. Daytime temperatures in January average around 70℉, thus extending the offseason for many by providing optimal playing conditions.
Those who are serious about taking home the win at Fountain Hills can be found practicing the course weeks beforehand, as guarded baskets and peninsulas galore require a specific game plan. Some walk the course and set out their exact line of attack for all 18 holes before playing, while others keep a general attitude of playing it safe or being bolder during competition.
A word to the wise if you ever play at Fountain Hills – the man-made lake isn't exactly the cleanest water out there. If you choose to retrieve any of your lost discs, do so with caution and avoid jumping in the water. You'll thank us later!
We're so excited for this season to kick off and can't wait to see the epic battle that's sure to happen at Fountain Hills this year. Have you played the course before? If so, share with us your tips for managing the course in the comments below.