Photo Credit: PDGA
As one of the most anticipated events each season, the Beaver State Fling brings touring pros to the Pacific Northwest for a three-day event filled with beautiful scenery and intense competition. Held at Milo McIver State Park in Estacada, Oregon, this monster of a layout boasts two 18 hole courses that instantly fill up once registration opens.
The competition during a National Tour event is always fierce, and with Ricky Wysocki holding the first place position the last two years in a row, it was anyone's guess who would win the MPO field. Let's check out the action and see what happened!
Photo Credit: PDGA

Two In One Day
The start of this year's BSF included two rounds on Friday, giving players a chance to make major moves right out of the gate. While the morning weather tended to cooperate for the most part, the pros found themselves getting wetter than they'd hoped during the afternoon competition. Despite how close the event comes to the beginning of summer, Mother Nature always seems to have her way with this tournament.
Round one saw Eagle McMahon taking an early lead with a ten under that was bogey-free. Big arms naturally do well at the Beaver State Fling, and a handful of household names shot low scores on Friday morning, including Drew Gibson, Simon Lizotte, Bradley Williams, and Ricky Wysocki.
The FPO field saw an impressive round by Vanessa Van Dyken, who only carded one bogey and placed herself on the lead card for the second round. However, Paige Pierce, Val Jenkins, Catrina Allen, and Sarah Hokom were all well within striking distance, and with three rounds to go, it was anyone's game.
Leading a strong charge during the second round on Friday was Paul McBeth, who matched Drew Gibson's 10 down and even brought an eagle into the mix on the well-known "Genius hole." Catrina Allen and California native Nicole Bradley pulled themselves into top spots with scores of 60.
Photo Credit: PDGA
Wet And Wild
Saturday was a day for the record books, with temperatures so cold you could see your breath even in the middle of the afternoon. Downpours, thunder, and lightning all threatened the flow of play, yet with such strong mental games, none of the players seemed to let the weather affect them too much.
The major news from day two comes with the back to back eagles from Garrett Gurthie, who certainly has the distance to reach these longer holes with ease. Fans of the BSF know that typically it's Paul McBeth who comes out on top with multiple 2's, yet Double G stole the show. McMahon shot a respectable 7 down on Saturday, yet 10 others found themselves higher up on the day's list of hot scores.
The women also met the challenge of wet weather with poise and precision, as Van Dyken shot a 980-rated round to place her on the lead card for the final day. Both Pierce and Allen also performed well, yet found themselves struggling on several holes throughout the day. Jenkins echoed another great round and with a relaxed attitude kept herself in position for a potential win.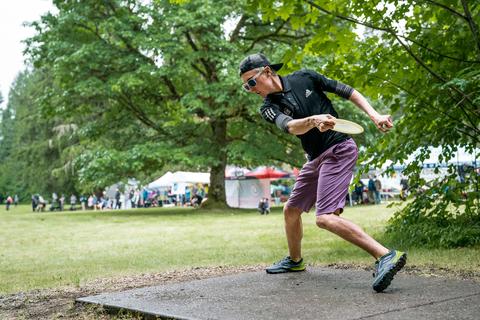 Photo Credit: PDGA
There's Always Drama
The Beaver State Fling has a tendency to keep people on the edge of their seats, and this year's event was no different. The final round of the men's competition saw a handful of players all within striking distance, and super conservative play was demonstrated across multiple cards. While some made a charge for the win, Eagle McMahon was able to come out victorious to secure his first BSF win and third NT victory in 2018.
Both Pierce and Allen pushed each other to their limits and ended hole 18 in a playoff position. Yet after one hole, Catrina edged out Paige by one stroke and claimed her 7th win of the season. Many players are now taking some time off to explore Oregon's beauty, while others are making their way to Utah for the next DGPT stop.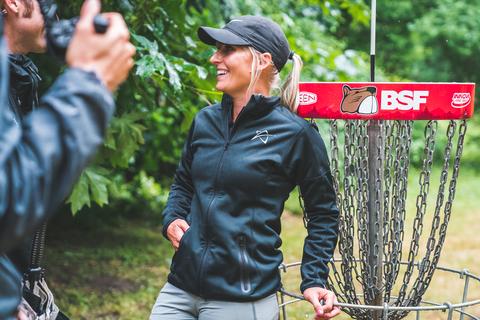 How do you think the rest of the season will pan out? It certainly seems that Eagle is making 2018 his year, but will Paul and Ricky let him? What about Paige's second 2nd place finish in a row? Tell us who you think will have the best year when it's all said and done!