There's nothing better than a good pair of pants. Finding ones that fit just right and flatter your body shape can be enough of a challenge, but what if we told you that in one pair of pants, you can go from the disc golf course to a night on the town, from a day at the office to a weekend vacation? Sounds too good to be true, right?
The innovative minds at DUDE Clothing have created these incredible pants that literally function in any situation. You may recognize them as the former Disc Dacs, but from now on they'll be known as the Dude Dacs. Let's learn more about these awesome pants!
A Unique Design
For some people, pants are just pants, but for disc golfers, the pants you wear can have a huge impact on your game. If they constantly fall down or don't stretch in the right way, you're more likely to be distracted by them than focusing on your shots. With the Dude Dacs, we've got that covered.
Made from a stretchy 4-way material that was created specifically for DUDE, you'll have a full range of motion no matter what types of crazy disc golf yoga you get yourself into. They're water and crease-resistant with a straight leg silhouette, and come with our innovative press-stud feature so that you can attach your DUDE towel right onto them!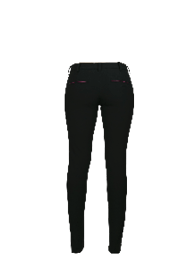 More Than A Disc Golf Pant
Sure, there are some other pants out there that do great on the course, as a lot of sport clothing brands know how to create quality products. However, it's hard to find a pair of pants that function on the course and then transition seamlessly into the rest of your day.
At first glance, the Dude Dacs look like a snappy pair of dress pants that you can easily wear to work on a daily basis. If you have a big date planned and need to look a little more put together than normal, the Dacs will do just the trick.
People particularly love traveling with their Dude Dacs, as they can go straight from the suitcase onto your body without the need to mess with an iron. If you end up wearing these pants for days on end, don't worry, we won't tell anyone!
Men's And Women's Options
The Dude Dacs has become one of our most popular items and we do sell out from time to time. Men's Dacs come in four colors: black, khaki, dark grey, and white. Dacs for the ladies are available in black and feature hot pink details for a bit of feminine flair.
Whether you're playing around in winter and need pants to keep you warm during each shot or you're relaxing on vacation and about to head out on the town during a chilly evening, the Dude Dacs fit the bill perfectly! Machine washable and crafted to stand up to years of absolute wear and tear, the Dacs are essential for every disc golfer out there.