For those of us who live in areas of the world that see snow during the winter months, it might seem like second nature to head out to the course no matter what the weather conditions look like. But what if you're visiting a snowy area and you're not used to disc golfing in this type of weather, or you've just moved and have to quickly learn to adapt to your new environment?
There's certainly a difference between playing in the snow and not, but with a few helpful tips and the right mindset, you don't have to let winter weather keep you indoors and away from the course.
Managing The Elements
For fair weather disc golfers, seeing a blanket of white outside might automatically mean you're skipping today's round. Yet as long as you have appropriate clothing and can prepare accordingly, there's no reason to let your friends have all the fun without you.
First and foremost, you cannot play disc golf in the snow without proper gear. One of the most important things to consider is to wear shoes or boots that are waterproof and that have excellent traction. Some players have been known to add things to the bottom of their shoes to offer them more stable footing, while others purchase specific winter weather shoes. Either way, you're more susceptible to slipping and injuring yourself when things are snowy and slick, so play with caution.
Dress in plenty of layers, and bring extra socks, gloves, and perhaps even pants depending on the depth of the snow. Despite wearing protective shoes, there's still a chance your feet could get wet, and there's nothing worse than trudging through 18 holes with cold toes. If you're playing multiple rounds in one day, consider changing certain garments after each round. Your body will naturally warm up as you get farther into your game, so stripping off layers as needed is key.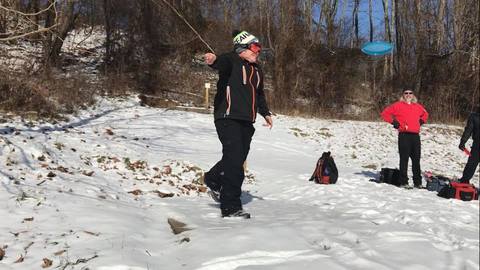 Photo Credit: James McDonald
Think About Your Shots
Playing in the snow means that you might not get to play each hole exactly the way you want to, but that's better than not being out on the course at all. Many players find that with a limited ability to execute full run-ups, they end up losing power and therefore have to adjust their game plan accordingly.
Don't be discouraged if a winter round results in a lack of distance for each shot. Instead, approach your game with the attitude of getting more comfortable with finessing your discs and utilizing slower discs to get the results you're after.
Because of your adjusted game plan, you might find that you end up playing the course in an entirely different way. Try throwing on a new line just to see what happens, and always make sure to consider environmental factors when playing. If you typically make some risky moves out on the course but they require you to trudge through deep snow or near a frozen body of water, use extra caution.
All About Your Discs
One of the key differences of playing in the snow, aside from the temperature and your footing, is the way you end up treating your discs. It's always recommended to keep your discs outside before playing around, if you can, either in your car or garage. This ensures that your discs stay cold and will be easier to wipe off when they hit the snow.
Before heading out, most winter warriors tape ribbons to their plastic, allowing them to see where they landed when the snow has accumulated on the ground. While the color, thickness, and length of the ribbons can vary dramatically, the most important part is making sure they are attached to your disc very securely with tape.
Want to have even more success on the course? Avoid throwing white discs, for obvious reasons. Stick to using well-traveled paths on the course so that you can easily spot the point where your disc disturbed the pristine snow upon landing. You might also want to use fewer discs than normal, not only to reduce the load on your back but to make sure you don't lose some of your favorites to the winter weather.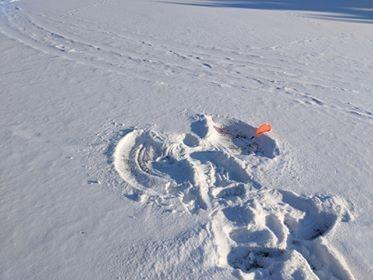 Photo Credit: Forest Scott Eversman
It Comes Down To Attitude
At the end of the day, the amount of fun you have can be attributed to how you approach playing in the snow. Is it a frustration that you'd rather avoid, or do you embrace the cold wholeheartedly and enjoy the added challenge?
Do you tend to stay at home during winter, or will you head out for around no matter how cold it is? Let us know some of your favorite tips for throwing in the snow in the comments below!