Disc golf is exciting when someone comes back from the chase card to win the tournament on the last stretch of holes. It's also thrilling to see an ace or your favorite player in person. What's not so great is dealing with treacherous weather, horrendous traffic, and just about every other mishap you can think of.
Don't get us wrong – the players at The 2018 Waco Charity Open worked hard to put on an impressive show for spectators, but just enough things went amiss that will probably place this one in the history books for the foreseeable future.
Starting With A Bang
The competition at the Brazos Park East course began on a Thursday, and despite some moderate temperatures and sunny skies, the wind had other plans. With gusts up to 30 miles per hour, it's shocking that we saw scores as low as we did! One of the few men to finish all 18 holes completely bogey-free was Devan Owens, who shot the hot round at -11 for the day.
Some familiar names also sprinkled themselves into the mix, as Paul McBeth and Jeremy Koling finished Thursday's play at ten under and a slew of the gentleman was well within striking distance of the top position.
The FPO division saw only one woman finish under par on the first day – Sarah Hokom took control of the event early on, yet had both Catrina Allen and Paige Pierce hot on her tail. Thankfully the women played early enough in the day to avoid most of the fierce winds.
TGIF
Spectators got a chance to witness the magic that can happen at Brazos Park East when the winds are calm and the pros can shred the course. When Friday's round was all said and done, there were only a collective 3 bogeys between the top ten men, meaning that 177 holes were played at par or better.
Once again showing his skills, Koling came in hot with a -13 yet didn't get to hold that title on his own. Several other young guns including Austin Turner and Nate Perkins also made some moves. Many would have assumed that Simon Lizotte would have been near the top of the scorecard as well, but the universe had different plans.
While en route to his tee time, Lizotte got stuck in traffic due to an accident on the road. Although he was not directly involved, he was significantly delayed and ultimately had to call in a DNF before heading back to his hotel.
The ladies certainly saw a bit of movement on day two at Waco, as both Pierce and Hokom took it away with a -3 and -6 respectively.
Playing In The Slosh
There's no doubt that tournaments of the past were popping up into player's minds as they watched the weather warning for Saturday's storm. Lighting, rain, and winds were all set to hit the Waco area while the men would be about halfway through their round, and people were on edge. Although a 30-minute weather delay was called with only a few holes left, players were given a break from the rain and allowed to finish the event before things got worse.
For much of Saturday's play scores were tight and it was anyone's guess who would take home the win. Tapping into his confidence from last year's first-place finish, Koling kept the heat on card mates Perkins, McBeth, and Garrett Gurthie. Mirroring last year's turn of events, the men's field ended things with a playoff between Jeremy and Nate – however, the story doesn't stop there.
After heading to hole 3 and ushering spectators to their respective places, Nate Perkins threw an errant drive that hit a bystander and effectively went out of bounds. Naturally, this allowed Koling to capitalize on his shot and ultimately ended with him taking home the win. Fans can only guess as to what may have happened if Nate's drive was allowed to naturally hit the ground. Perhaps it would have come back in bounds and things would have ended differently?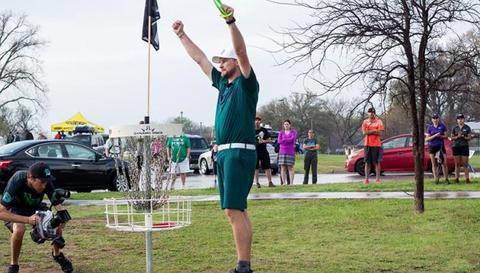 Pierce Fights Back
Not one to let an opportunity slip by, Paige Pierce set her sights on intense focus and execution during Saturday's final round. Remaining bogey-free until the second to last hole, she was able to surpass Hokom and take home the win for the second year in a row. Pierce is now the highest rated women's disc golfer and seems to be unstoppable this season!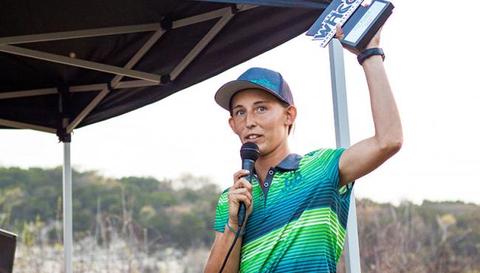 Despite a few unfortunate events, the 2018 Waco Charity Open was a huge success, as Tournament Director Ryan Draper echoes:
"I am so thankful to all of the players, spectators, staff, and event sponsors for making this event a success again in 2018! We have been fortunate the last two years to have such good story lines throughout the week and to have the winner decided by playoff back to back is more than a TD could hope for. Congrats to Paige and Jeremy, showing they are true champions by defending their titles!"