Texas is a huge disc golf hub, not only because of the massive square footage of the state, but because of how many quality courses there are to choose from. Today we're going to highlight Brazos Park East, the site of the 2019 Waco Charity Open commencing 14th March. Unless you're from the area or you've been on tour in the past, you might not know much about this spectacular course, so here's the rundown!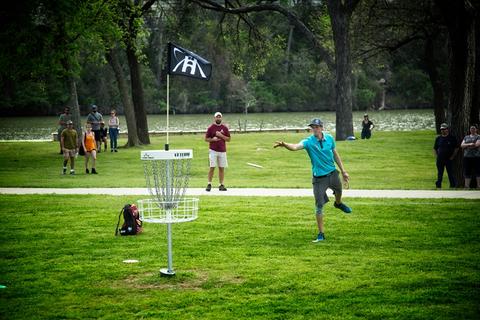 Image Source
Beauty And The Beast
Imagine playing a round of disc golf on the banks of the Brazos River, with spectacular views of limestone cliffs and wooded holes that nearly take your breath away. If you've ever been to Brazos Park East, there's no need to imagine it any longer. This beautiful course challenges even the highest caliber players yet also offers enjoyment to more casual players.
Established in 2003 with a course redesign in the early part of this decade, Brazos incorporates 18 concrete tees with flat yet wooded holes to make playing there a fun challenge. Dynamic Discs Veteran baskets are in use and while it doesn't have multiple pin positions, there are a variety of tees to shoot from.
The front 9 of Brazos is fairly open although it brings a lot of OB to the table. If you manage to hit your lines during the first half of your round you'll be in luck, as the back 9 requires extreme accuracy. Making its way through thick woods, the later portion of the course is dubbed The Beast for good reason.
Expectations For 2019
In just a handful of days from now, some of the world's best players will step onto the course and make their way through all 7,949 feet of it. With a par set at 67, it's a good bet that you'll see a lot of distance drivers in use, as only 6 of the holes are under 300 feet. The Waco Annual Charity Open is no doubt the perfect setting for some of the biggest arms in the game to show off their skills.
Headed out to Brazos Park East for a casual round with friends? Bring your backup discs, as several holes feature water hazards that might cause you to part with your beloved plastic. Those new to Texas might be surprised to find snakes throughout the course as well, so be sure to stay on your toes!
With the 2019 season already giving us exciting rounds and tons of drama to follow, we're sure that the trend will continue as players head to Brazos Park East. Thankfully they don't have to manage the hot Texas sun that can make summertime rounds a bit arduous!
If you're ever in Texas near Austin or Dallas, be sure to make the trek to Brazos. It's a must play on any disc golfer's bucket list! For those of you who like to plan ahead, keep your eyes out for the awesome Straddle The Brazos tournament as well, as this course is a popular spot for all things disc golf in Texas.