If wooded and hilly golf suits your game, then you'd better not miss one of several tournaments taking place at Gran Canyon Disc Golf Course. Found in Brooksville, Florida, it looks nothing like you'd imagine disc golf in the Sunshine State to be like – and it's incredibly fun.
Most players know this course due to Throw Down The Mountain, an annual A-tier that creates a nice little stop between events on the main disc golf tour. In 2018, this Discraft sponsored event is split into two weekends to accommodate everyone. As will find themselves competing for the weekend of Waco, while pros will head over the weekend after.
A Little History
Florida locals hold a special place in their hearts for Gran Canyon, as its fate has often been in jeopardy. In 2006, the property metaphorically closed its doors, baskets were removed, and over the next four years, people speculated about what was to come next. The 60-acre piece of terrain was prepped and ready to accept a housing development, but the trajectory of the real estate market changed those plans rather quickly.
Talking the property owners into revitalizing the disc golf course took years, but as baskets went in, people realized that over time the land had naturally undergone some changes. Listed as a temporary course on Disc Golf Course Review, tournaments often have to utilize creative pin positions to avoid areas of overgrowth and erosion.
The Lay Of The Land
Due to the varying course layout, you never quite know what you're getting yourself into when you show up in Brooksville. Some configurations measure in at just under 6300 feet while other options total over 8000 feet. No matter which way you go, the land brings many hills and valleys, creating a bit of a Grand Canyon effect in Florida.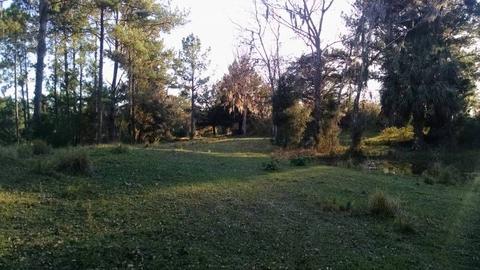 I
If you're expecting a prim and proper course with concrete tee pads and the utmost in maintenance, you might be in for a surprise. That's not to say that Gran Canyon isn't a gem, but it's a course that every disc golfer should have on their bucket list if they want an authentic experience.
Wooded shots will test your accuracy, while longer holes allow those with big arms to air out their skills. All in all, the course brings a little bit of something for everyone, with some holes under 200 feet and most ranging in the 300 to 400-foot range. Pack your entire arsenal of discs before heading out down the mountain, because you're going to need them!
Include It On Your Tour
Whether you're playing on the pro tour or simply embarking on a road trip across the country, you really should make sure to stop in Brooksville and try to attend one of several tournaments held there throughout the year. Organized by Sun King Discs, events at this course are truly something special and tend to sell out very fast. When you combine the legacy of this course with sunny Florida weather, you really can't go wrong at Gran Canyon.