While many touring players are taking some much needed time off between BSF and the next DGPT stop in Utah, others started their travel east and ended up in Colorado at this year's High Plains Challenge. Run by a legendary disc golfer in his own right, John Bird, the tournament spanned three days and three courses.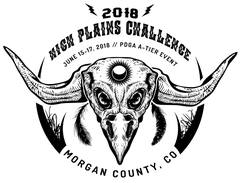 As is the case at most A-tier events, the competition was strong, but our own DUDE Ambassadors put out very solid performances. For some, playing in this event held a lot more meaning than usual. Let's check out the action!
Blending The Old And The New
The 2018 High Plains Challenge is being described as the end of an era, with future events no longer offering camping in specific areas and additional courses being integrated into the mix. As with all things in life, if you're not changing you're just staying stagnant, right?
This year's tournament was held at the traditional courses in Fort Morgan – the Pessimist course and the Optimist course. However, a third location was added at the Quail Dunes Golf Course, giving players the ability to experience disc golf on a ball golf layout.
With 172 players in attendance, this three-day tournament brought together some of the best local talents around as well as touring players who wanted to try their hand at Colorado disc golf. Remember, altitude can make a big impact on how your discs fly!
DUDE Players Perform Well
While three Colorado natives pushed for the win during the weekend event, DUDE's very own Matt Bell showed impressive play and tied for 4th place out of 39 men in the Open field. Scores were close, with third place and second place only edging Bell out by one and two strokes each, respectively.

Matt Bell
If you saw him play in Las Vegas this year, then it shouldn't come as a surprise that Joel Freeman took home first place with a total of 24 down and of course, bragging rights. However, some pretty impressive play also occurred on the ladies' side of things.
Dude Ambassador Kona Panis grew up in Colorado and after graduating high school moved away to sunny Southern California. Attending the High Plains Challenge was like a blast from the past for her, as she attributes the state to fostering her love of disc golf.
Panis won the FPO division by 7 strokes and got to compete against women who she no doubt grew up playing with. She shot well consistently all three rounds and loved her time back home with friends and family.
See all the Tournament Results Here
One For The Bucket List
If you're ever on tour and want the chance to play in an exceptional tournament in Colorado, the High Plains Challenge is one to keep in mind. The weather in Fort Morgan is lovely this time of year, and the time and energy spent ensuring this event run smoothly is second to none. Try making it a yearly event, as the courses they use do change from year to year. Congratulations once again to Matt and Kona for their excellent play!