When the disc golf bug bites, it's common for new players to want to do everything they can to make an impact in their local community and spread the word about disc golf to everyone! Seasoned players might even find that they have the desire to infuse their town with the sport if it's not currently a well-known activity, but many wonder how exactly they can do that successfully.
A great way to integrate disc golf into the town you live in is to start your own disc golf club. Sound overwhelming? Here's how to do it in 5 easy steps:
Determine your club name and home course –

This probably sounds like a no-brainer, but if your area has multiple clubs and multiple courses, it's important to distinguish your group from the rest. Make sure to be respectful of the other entities in place and try not to create any sort of competition between your group and others.

Figure out your format –

Most disc golf clubs like hosting regular events in the form of weeklies. One of the more common formats is to run doubles, although some choose to do singles events or even an ace race or two. Clubs that have a lot of manpower might even opt for running tournaments every few months as a way to unite members as well as raise money for the group.
Use social media to advertise –

A successful club relies on having members attend your events, or else the club is really just you. Whether it's a weekly league, a work party to help clean up a course, or an inaugural C-tier, you almost can't over-advertise. Use Facebook, Twitter, Instagram, and more to make sure your message is out there.
Figure out your leadership –

Like any organization, disc golf clubs can fall apart if there's tension in the ranks. Your club should have a structure with official positions like president, vice president, treasurer, and secretary. It's a good idea to have regular meetings to discuss issues like course maintenance, events, and how to allocate club funds.
Have fun –

Above all else, running a disc golf club should be a lot of fun. It might take a little bit of work to get it off the ground, so don't be discouraged if only a few people show up to your event for the first several times. The more you're able to get the word out there, the faster your club will grow and the larger of an impact you'll have on your community.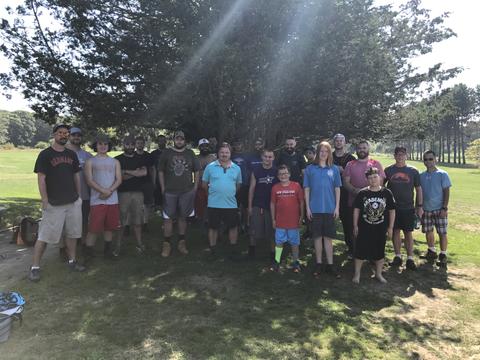 Wondering why you should even start a disc golf club in the first place? The benefits of having this type of group include building a camaraderie with others in your area who love the sport, creating more potential to shape the types of events in your town, and even spreading the word to others in the community who have no idea what disc golf even is! If you can play your favorite sport while making a positive impression on those around you, that's quite possibly the most perfect scenario out there.