Ask any disc golfer who is competing in local events or touring the nation to perform at the highest level possible if they rely on having a few good collared shirts in their wardrobe. Hands down, you'll receive an outstanding "yes"! But with a ton of companies producing shirts for the disc golf market, how do you know what to pick?
Current DUDE Clothing owners know this to be true – we make our products specifically for disc golfers and integrate unique designs into our garments that allow them to function on and off the course while standing up to the test of time.
If you've already fallen in love with our Men's Pro Polo, then you'll be excited to know that we are releasing a fourth colour option – grey/black. If you've been wanting a neutral tone without going as dark as our black polo, the grey option is perfect for you. Curious to know what makes this shirt so unique? Keep reading!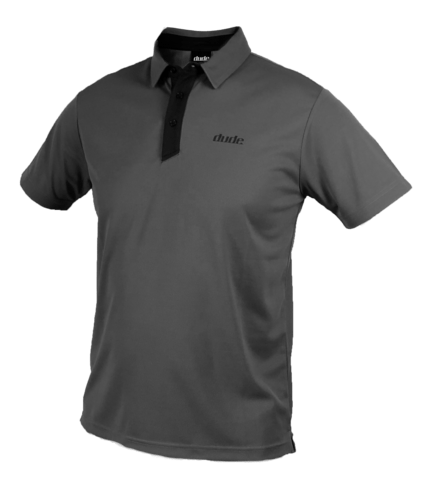 Technical Details
What makes the DUDE Pro Polo so different from other types of athletic gear out there has to do with both the material we use and the design of the shirt. Our goal is always for players to be comfortable when they're on the course, so we use a 100% Polyester Evol-Dry fabric that wicks away moisture without feeling heavy. This material has a good amount of stretch to it, so no matter what kind of shot you need to execute, you won't have to worry about busting a seam!
Our Men's Pro Polo also incorporates an extra high collar for the ultimate in sun protection. If you're on the course during a hot day, simply flip it up and allow the two-piece design to cover your neck and help keep you cool. The shoulders of the shirt feature a reflective and rubberized print as well, both providing safety at night and allowing your disc golf bag to sit comfortably without slipping off.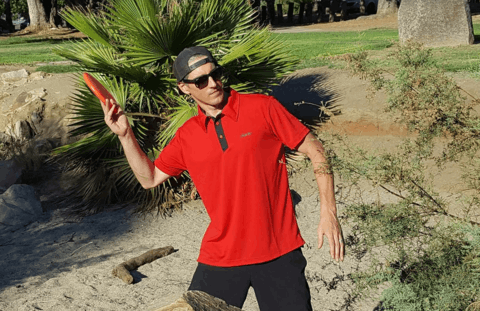 Looking Good
Just as we've done with our previous Pro Polo's, the grey/black option includes contrasting piping to add a bit of flair and also shape the shirt in a way that will fit well on nearly any body shape. Remember, the shirt is cut with an athletic fit, so while it won't be tight, it will sit slightly closer to the body than a normal dry-fit style.
The DUDE Pro Polo is so handsome that you might wear it off the course too! It's perfect for date night or even a put together yet casual look at the office. At DUDE we always aim for our garments to have multiple purposes, and this polo will transition from the course to work to a night on the town with ease.
Perhaps grey isn't your color and you want something a bit different? Check out the pro polo in our shop – there's an option for everyone, and no one says you have to pick just one! If you don't already own the Men's Pro Polo, grab one today for a style that's fashionable and functional.