Whether you're playing in your first tournament or you happen to be a TD for the first time, disc golf events can seem a bit stressful and overwhelming if you aren't adequately prepared. That's why we're here to share with you the ultimate list of event tools – items that you absolutely need in order to have the best chances of success.
Don't worry, nothing on here is overly expensive or complicated. Rather, we've compiled a resource of things that you may not think about on the morning of the big day.
Tournament Director Tools
Hopefully, you have some friends to help you when planning your first disc golf event, but in the case that you're flying solo, there are a few must-have items:
Scorecards and pencils are a must. If the weather is wet, you might bring some zipper bags to keep cards dry. Clipboards are a nice touch if you have them.

A ScorePointe system makes your event look professional and organized.

Miscellaneous items like a first aid kit, air horn for starting the round, and flags for any CTPs will also come in handy.
Running an event is an involved process, so thankfully the PDGA has put together an extensive tournament director checklist. Anything you might forget about is listed here for your convenience.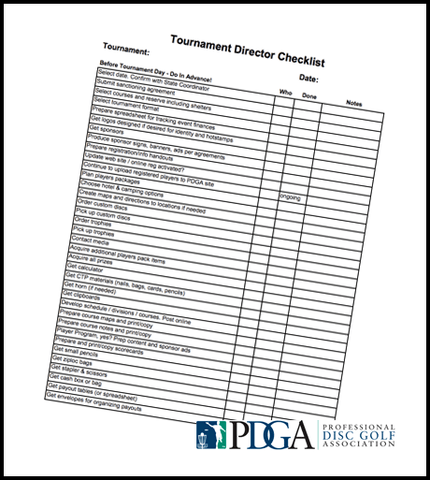 What You Need As A Player
Unless you compete every weekend and your routine is set in stone, you could have the potential of forgetting one of your much-needed items as you head out the door. Player preferences will vary in terms of what is considered essential, but in general, you'll need the following:
Items like a birdie bag, stool, cart, or even an umbrella can all come in super handy during an event. Sometimes the weather can surprise you and you don't want to be out on the course unprepared.

You should always have a pencil in your bag as well as a few towels for drying off wet discs. Keep a lightweight type of poncho in there too if the weather is questionable.

For cold but dry days, the

DUDE Tech Hoodie

does the trick. Warmer rounds will no doubt call for a hat to keep the sun out of your eyes.

An extra change of clothes, or at least socks, can be beneficial to have with you. Often times the lunch breaks are long enough to allow you time to get into drier items and have a more comfortable second round.

An insulated water bottle will keep you hydrated during warm days, and a hot beverage inside can help to warm you up during colder rounds.

Snacks are a must, but make sure you don't try out new items during a tournament. The last thing you want is an upset stomach when you're trying to play. Stick to foods that you know you like and will give you the fuel you need to compete.

A day or two before the event make a checklist of your current bag inventory. This will allow you to do a quick check before you leave the house to make sure you have all of the discs you need. Backups of your favorite molds are also smart to bring with you.
We've only just tackled the tip of the iceberg when it comes to the tools you need at a disc golf event. Whether you're a player or a TD, what items do you find to be essential? Let us know in the comments below!